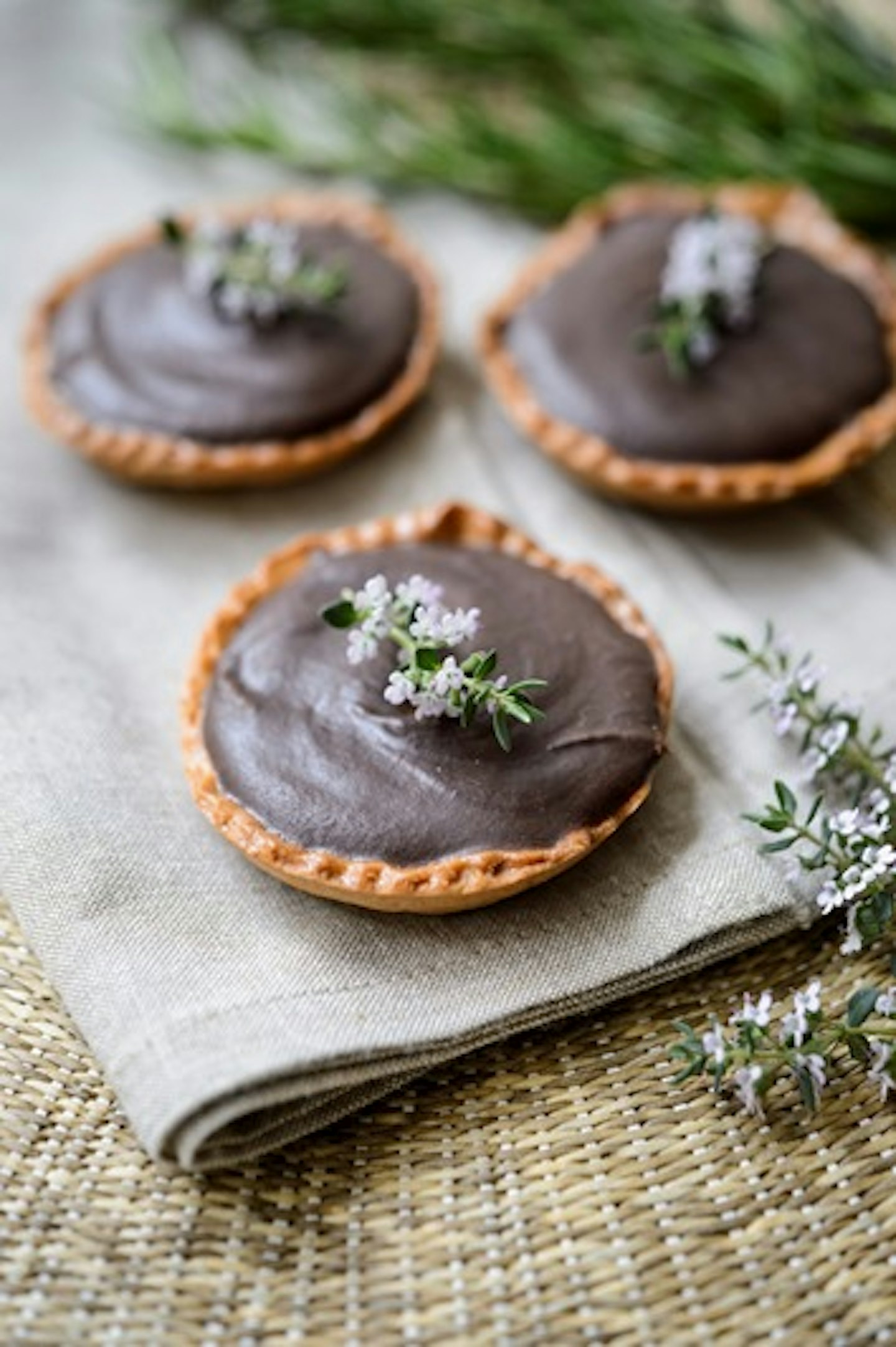 (makes 12 small tartlets)
YOU WILL NEED
1 x 12-hole fairy cake tin, greased
1 x cookie cutter
9cm/3½in diameter
Pastry: 120g/4½oz plain flour
40g/1½oz unsalted butter, chilled
40g/1½oz caster sugar
1 egg
Ganache filling:
200ml/7fl oz double cream
80g/2½oz light brown muscovado sugar
6–8 large sprigs rosemary or thyme or 4–6 large leaves mint (peppermint, chocolate mint, etc.)
200g/7oz plain dark chocolate, broken into small pieces (70 per cent cocoa solids)
Decoration: cocoa powder (optional)herb sprigs (optional)
WHAT TO DO
For the pastry, make and blind bake 12 small tartlet cases. Leave to cool.
For the ganache, put the cream and sugar in a small saucepan with the herbs and bring to the boil, stirring to dissolve the sugar. Simmer for 2 minutes, then remove from the heat and leave to cool. Bring the cream mix almost back to the boil and pour through a sieve over the chocolate. Stir well until all the chocolate has melted and the ganache is smooth and glossy. Spoon or pipe the ganache into the pastry cases and leave to cool.
TO SERVE
The tarts look attractive left as they are, but you could dust them with cocoa powder for an extra chocolate hit, or scatter a few leaves of the same herbs used in the ganache over the top.