Surprisingly easy to grow and a pretty addition to the garden with its tall fern-like fronds, with a little bit of patience you'll soon be eating your own fresh asparagus
Words: Sarah Wilson. Photographs: Stockfood
It's a seasonal treat that sums up the taste of summer. Fortunately once you've planted it asparagus will continue to reward you for years to come with minimal effort as long as you follow the basic rule of making sure it's planted in rich soil with good drainage. If there's one vegetable that's perfect for the new modular style raised beds that are becoming such a feature of modern town gardens it's asparagus. Lifting it up in a contained area such as this is the best way to ensure the good drainage that is necessary if you're going to get a bumper crop. You can also grow it successfully in pots, as long as they're large enough and deep enough and you limit yourself to one crown per pot.
A crown looks like a ball of roots that is a year old. They are available from garden centres and via mail order from mid-March to early June. Just remember you need to plant them out as soon as you can after you get them as they are often packed in plastic, meaning they quickly dry out and can become brittle and damaged. If they have become dry, submerging them in a bucket of water before planting will rehydrate them. Planting is straightforward. Just remember to fan out the roots and pile a deep layer of compost on top.
HOW TO GROW IT IN A POT
Asparagus can be grown in large pots or bags if space is tight. It's also a handy way of growing it on the patio for easy access from the kitchen
You will need:
-Several large deep pots or round vegetable grow bags (£2.50/2 x 40L, wilko.com)
-Multi-purpose potting compost such as John Innes No 3 (£12.99/25L, suttons.co.uk)
-RHS Horticultural Potting Grit (£2.99/5kg, waitrosegarden.com)
-Asparagus crowns (£9.99/5 x 'Mondeo', thompson-morgan.com)
WHAT TO DO
Remove the crowns from their plastic bags and soak them in a bucket of water for at least an hour before planting.
Use as large and deep a container as possible and make sure it has adequate drainage holes as asparagus likes free-draining conditions. Half fill with a mixture of potting compost and horticultural grit, then place one crown in the centre on top of the soil 4 to 6 inches below the top of the pot, fanning out the spidery roots evenly. The crown should be completely buried. Fill to the top with compost and firm the surface until even.
Water thoroughly so the soil is moist but not drenched, and your fingertip comes out wet when inserted. Check regularly to keep the soil in this condition. Then position the container in a sunny spot as asparagus grows well in full sun.
Repeat this process in separate pots with the remaining crowns.
PLANT IT
Now enjoy…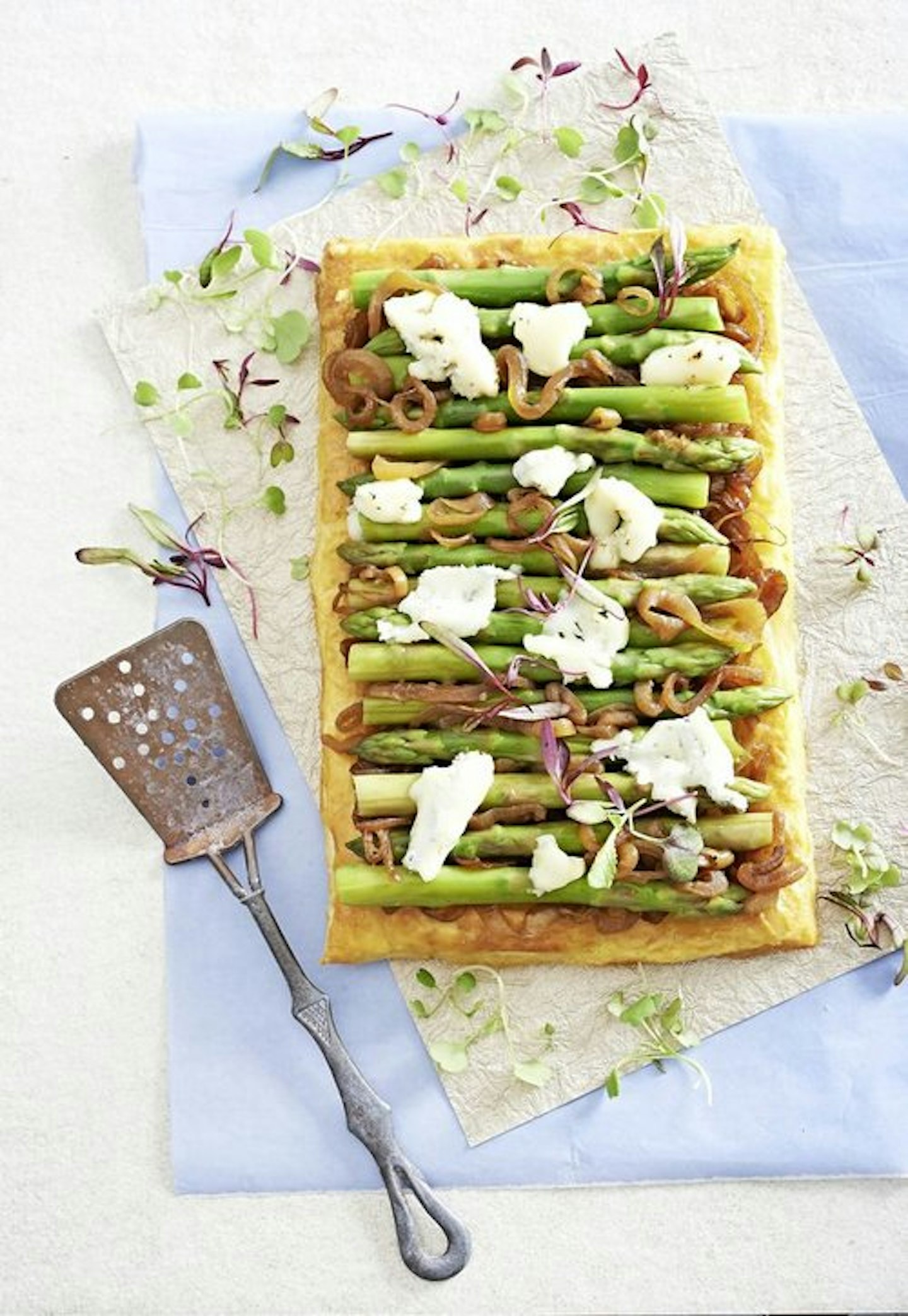 Asparagus with lemon hollandaise
[tip] If serving this as a larger starter dish, trying adding a poached egg
INGREDIENTS
2 tbsp sesame seeds
1 tsp sesame oil
20 asparagus spears, trimmed
For the hollandaise:
3 free range egg yolks
1 tbsp good quality cider vinegar
125g salted butter, chilled, cubed
micro herbs or micro greens, to garnish
SERVES 4 as a starter or makes 20 canapés
WHAT TO DO
Make the hollandaise sauce. Fill a pan two-thirds full with water and bring to the boil. Put the eggs yolks and vinegar in a heatproof bowl and whisk for a minute until pale and fluffy.
Remove the pan from the heat and put the bowl over it, making sure the base is not touching the water. Add the butter to the bowl. Whisk steadily until the butter is melted and the eggs cooked by the heat from the water. Keep whisking gently and the sauce will thicken until it starts to resemble thin custard, at which point remove the bowl from the pan and continue whisking until the sauce thickens.
Toast the sesame seeds in a pan over a low heat until golden, making sure they do not burn. Remove from the heat and leave to cool.
Steam the asparagus for 3-4 minutes until tender but retaining some bite. Brush lightly with sesame oil then roll in the sesame seeds. Cut into bite size pieces suitable for dipping into the hollandaise.
If making canapés, divide the hollandaise between 20 small glasses then add a couple of pieces of asparagus to each. Garnish with a sprinkling of micro leaves. If serving as a starter, divide the hollandaise and asparagus between four bowls, and garnish in the same way.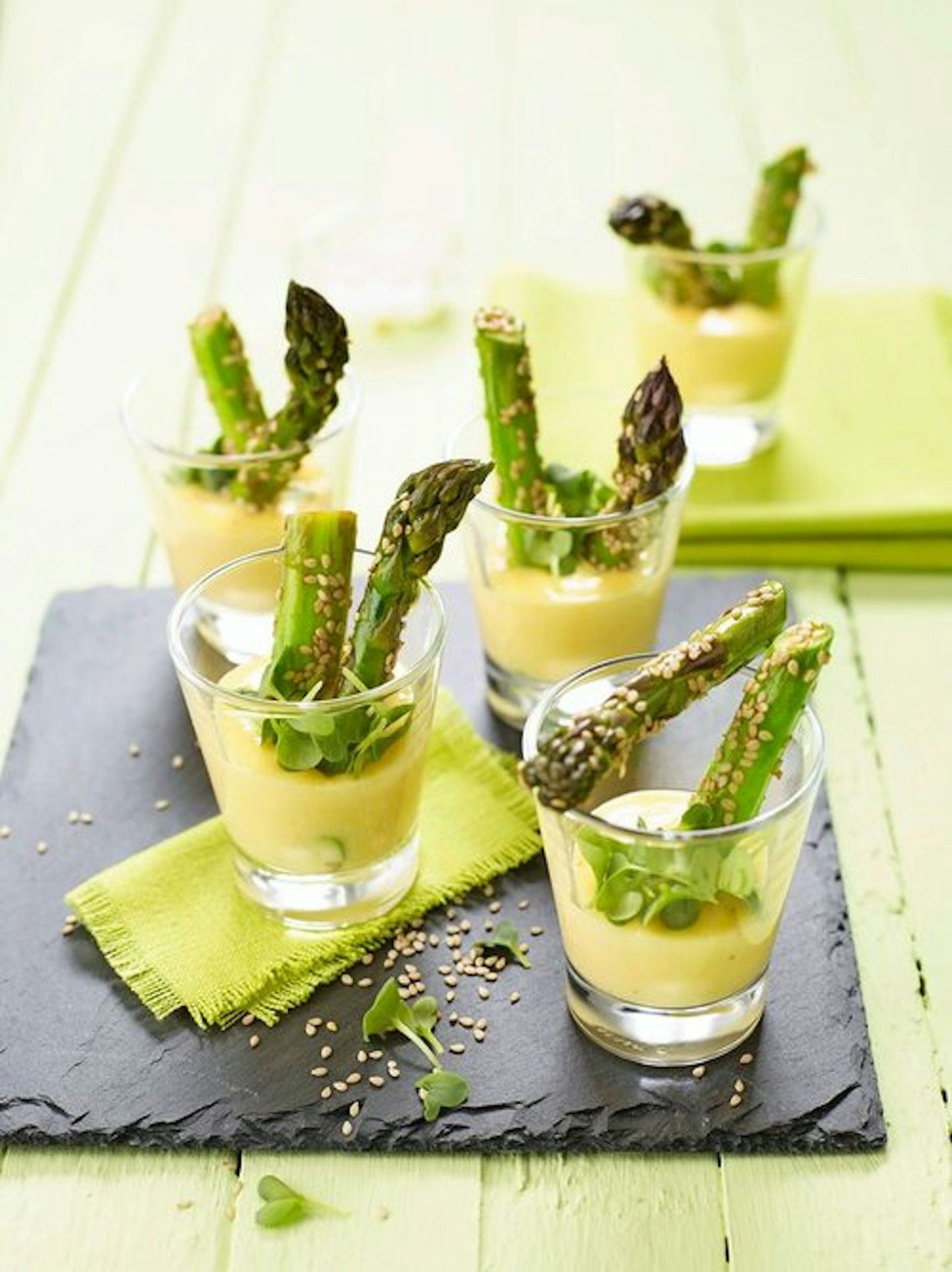 Salad of asparagus, feta and new potatoes
[tip] Add 2-3 tbsp of chopped mint leaves to this dish as a fresh summery garnish
INGREDIENTS
700g new potatoes, scrubbed
1 tbsp olive oil
500g asparagus, trimmed
100g feta, crumbled
100g baby spinach leaves
For the dressing:
3 tbsp olive oil
1 tsp Dijon mustard
1 lemon, grated zest and juice
SERVES 4
WHAT TO DO
Heat the oven to 200*C Gas Mark 6. Cut the potatoes in half and arrange in a roasting tray. Drizzle over a little of the olive oil and toss until the potatoes are thoroughly coated. Roast for 30 minutes, giving the pan a shake occasionally to turn the potatoes.
Brush the asparagus with the rest of the oil then add the asparagus to the potatoes in the roasting tray. Cook for a further 15 minutes until the asparagus and potatoes are both tender.
Transfer the cooked vegetables to a bowl. Add the feta and spinach leaves and toss thoroughly.
Put the dressing ingredients in a screw top jar and shake well until thoroughly combined. Pour the dressing over the salad and toss again gently.
Transfer to a serving dish and serve warm.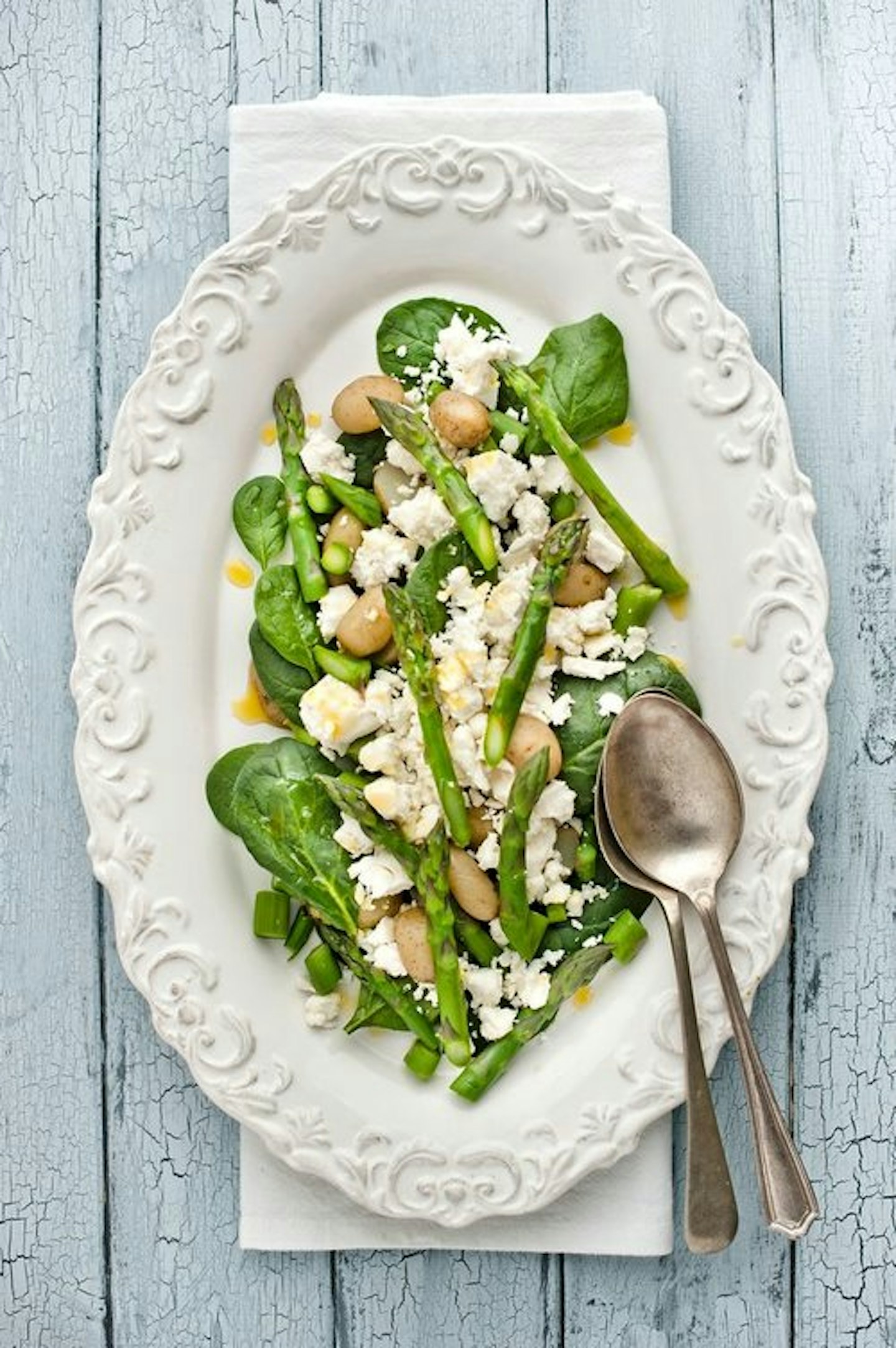 Asparagus, caramelised onion and gorgonzola tart
[tip] Choose mustard, broccoli or radish micro greens in packs from the supermarket
INGREDIENTS
400g puff pastry sheet, at room temperature
1 free range egg, beaten
40g butter
4 onions, finely sliced
2 tbsp brown sugar
2 tbsp balsamic vinegar
salt and freshly ground black pepper, to taste
400g asparagus, trimmed and blanched
1 tbsp olive oil
100g gorgonzola
micro herbs or micro greens, to garnish
SERVES 4
WHAT TO DO
1.Preheat the oven to 200*C Gas Mark 6 and line a large baking tray with baking paper. Transfer the pastry to the prepared tray. Using a knife, score a 1cm border around the edge of the pastry, making sure you don't cut all the way through. Prick the base all over with a fork, brush the edges with the beaten egg and bake until golden, around 10-12 minutes. Remove from the oven and put to one side.
2.Melt the butter in a large pan over a low heat. Add the onions and cook for about 15 minutes, stirring occasionally, until soft and lightly browned. Add the sugar and vinegar, and continue to cook, stirring regularly, until sticky and caramelised, around 5 minutes. Remove from the heat, season and put to one side.
3.To assemble the tart, first spread the caramelised onions over the base. Arrange the asparagus spears in a single layer, alternating tips and ends. Brush with oil and season. Crumble the gorgonzola on top and bake for around 10 minutes until the cheese has melted.
4.Serve warm with a scattering of micro herbs or micro greens to garnish.