If you're looking for a leisure chair to add to your garden furniture that has the added benefit of relieving back pain and having a calming effect, a rocking chair is the way to sway. Get ready to relax - from Scandinavian to All-American - here at Modern Gardens we've rounded up the best contemporary rocking chairs, for when life's not all rock and roll.
Designed for carefree days and catnaps, the garden rocking chair comes in different styles. You may be looking for a traditional wooden rocker, in which case there are many options, including the Adirondack rocking chair that hails from New York. Alternatively, you may love vintage countryside vibes and are looking for a rocker in wrought iron for roses to grow around... it exists. Or, your perfect pew may involve tubular metal in an organic shape, that can withstand all weather - perfect for enjoying drinks in the garden all year round.
Best rocking chairs at a glance
• Best wooden rocking chair: Trueshopping Adirondack Rocking Chair – View on Amazon UK
• Best rattan rocking chair: Outdoor Seibel Rocking Rattan Chair – View on Wayair
• Best outdoor rocking chair for durability: Outdoor Aalicia Rocking Chair – View on Wayfair
In the rocking chair's 300-year history, not much has changed about its fundamental design and function. Yet, improvements came with innovative materials that contemporary manufacturers use to improve its lifespan, aesthetics and comfort. Most contemporary rocking chairs retain the traditional form but have modern lightweight steel frames. A lightweight metal sounds like an oxymoron, however, materials such as aluminium and tubular steel are perfect for garden chairs. And modern minimalism totally rocks our world.
Ergonomic furniture design is a feature of contemporary home and garden furnishings. Material innovations such as using aluminium and water-resistant fabrics in chair design have made them lightweight, weatherproof, slimline in design and improved their comfort. So if you're in the mood to embrace your inner (off-duty) cowboy, read on and discover how this American invention has moved with the times.
Best rocking chairs
Best rocking lounger
Description
Featuring a sturdy metal frame with a breathable fabric seat liner, the Outsunny Orbital Lounger
Pros
Full marks for comfort
Quality
Lightweight
Cons
Lower weight capacity than other chairs
Best antique-style rocking chair
Description
For vintage vibes, this distinctive Outsunny Outdoor Vintage Rocking Chair features an Art
Pros
Vintage style
Unique distressing
Powder-coated to protect from rust
Handmade
Best wooden rocking chair
Description
Sink into this deep rocking chair, whilst perching a cup of tea and a good book on the wide
Pros
Timeless design
A good price for Adirondack-style
Cons
Some customers have found the seat too deep for them
Best rattan rocking chair
Description
Immerse yourself in the latest issue of Modern Gardens and let yourself be soothed by this Outdoor
Pros
Weatherproof (minus the cushion)
Sturdy
High back and thick-padded cushion for comfort
Cons
Some customers have commented that the chair was fiddly to put together
Best trendy rocking chair
Description
Unwinding never looked so good - check out this season's trending moon chair. With a strong bucket
Pros
Stylish
Durable steel frame
Choice of colours
Best double rocker
Description
Spend more time chilling outdoors with your loved ones. The Outsunny Double Rocking Chair is made
Pros
Good price
Rust-resistant frame
No assembly
Ergonomic
Cons
Weight capacity not specified
Best extra large rocking chair
Description
Rock off to sleep to the rhythm of some soft music with this Extra Large Rocking Chair. Imagine
Pros
Ergonomic
Additional footrest with rolling massage balls
Can be folded flat for storage
Cons
Not suitable to be left outside in bad weather
Best garden rocking chair for portability
Description
Relish soothing and quiet movements with these lightweight and versatile rocking chairs for
Pros
Foldable
Easily expands
No assembly required
Cons
No real photography of product
FAQs
Where do rocking chairs come from?
To complement your cocoon chair, hairpin furniture and garden armchair, outdoor rocking chairs are the latest in a growing trend for furnishing our gardens. But really, this is one leisure chair that's always belonged outside.
Lounging outdoors, lulled by a gentle rocking motion, is a soothing way to spend a summer's day. Rocking chairs have been a fixture on US porches for centuries. In fact, the trend for outdoor rocking chairs is a bit of a homecoming as they were a familiar sight on verandas and in gardens in the 1700s.
According to Troutman Chairs, original rocking chairs were not fancy or upholstered, but they were designed to provide some relief and comfort to farm workers. This type of seat has integral links with American culture and to this day the design is essentially the same.
A rocking chair is a conventional seat with two rockers instead of four legs. The rockers allow you to sway back and forth with minimal effort. The Shakers were the first to fashion rockers and fix them to chair legs. In a way, the Shaker approach to furniture design has an affinity with Scandinavian functional design, as every part of the rocking chair was carefully measured to fit the human body.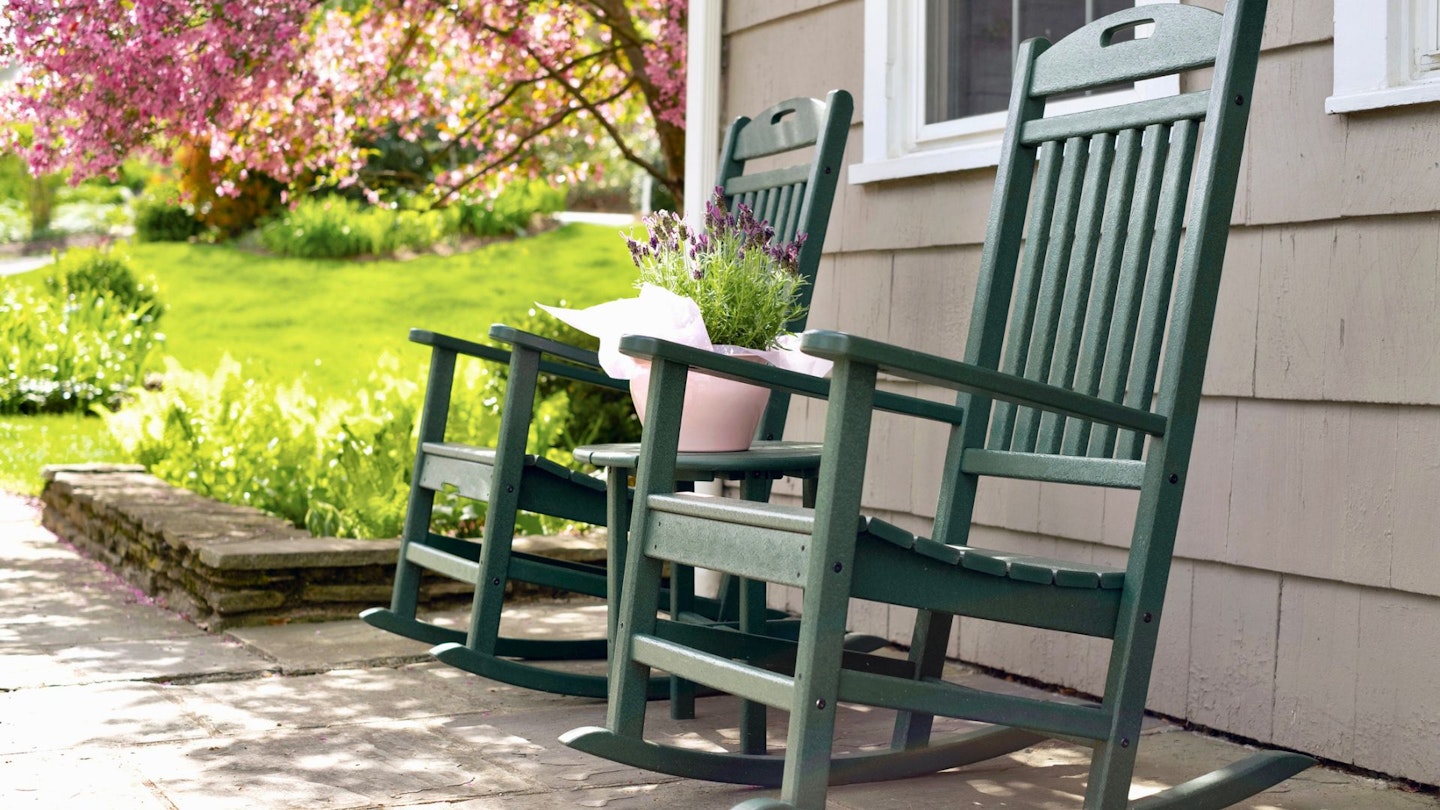 How do I look after my outdoor rocking chair?
Firstly, make sure you position your rocking chair on stable, flat ground. It's also a good idea to leave it in a sheltered spot so the wind can't get under it. Never overload the chair by hanging things on it - that would cause it to tip. It's best to store your chair inside in the event of a storm, strong winds or heavy rain.
Cleaning your outdoor chair is as simple as washing it with a cloth and warm water with mild detergent. Wipe dry to avoid smears. Wood and untreated metal benefit from having a lacquer or outdoor paint applied to protect them. Alternatively, choose a chair that's been powder-coated for weather resistance and durability without the need for maintenance.
Is rocking in a rocking chair good for you?
Rocking provides gentle exercise for people who are immobile, helping to build up strength in the legs. Gentle rocking can also help to increase blood flow around the body which can ease joint and back pain. It's a self-soothing action that releases endorphins, boosting emotional wellbeing, which is beneficial to us all.
What to read next:
Description
Discover everything you need to know to make your outside space look fantastic, quickly and
Natalie Knowles is a Homes & Garden Product Writer for Modern Gardens, specialising in garden trends. When she's not flexing her mow-how, Natalie is a successful artist and illustrator.