Hanging egg chairs are still one of the most sought-after garden chairs; we're big fans. While we saw lots of single egg seats on the market last year, a host of two- and even three-seater hanging garden furniture are set to invade our outside living spaces this spring and summer.
With its distinctive curves, tactile open-weave and enveloping shapes, these comfy garden chairs add serious style to your patio. And, because they invite you to climb in and gently sway, feet off the ground, they appeal to the child in us all and provide the private, cosy space we all deserve. Nothing works quite like hanging chairs and the best hammocks to make you feel like you are on a mini break.
Black Friday deals on hanging egg chairs
We interrupt the regularly scheduled content to let you know that although Black Friday is over, there's still time to grab some last chance Black Friday deals on garden egg chairs. These are the retailers that still have deals available or keep scrolling to continue reading our buyer's guide.
Shop Black Friday hanging egg chairs deals on: Rattan Direct | B&Q | Amazon | Aosom | Maze Living | Very
Top deal: Ella James Monato Indoor Outdoor Egg Chair WAS £555, NOW £388.50
Save 62%: Wowcher Croxley Rattan Egg Chair Swing WAS £499.99, NOW £179.99
Save £350: Havana Egg Chair WAS £899, NOW £549
Save £650: Naples Hanging Egg Chair WAS £1,099, NOW £449
51% off: Hanging Chair Grazia in Pink WAS £109, NOW £52.99
In the colder months, you can pile on the cushions, put on some solar lights, layer up the throws and curl up with a good book or podcast. When warmer days arrive, these hanging egg chairs are a welcome escape, half-shaded from the sunshine.
Best hanging egg chairs at a glance
• Best egg chair with standout design: Ella James Monato Indoor Outdoor Egg Chair - View on Not on the Highstreet
• Best value egg chair deal: Wowcher Croxley Rattan Egg Chair Swing - View on Wowcher
• Best classic hanging cocoon chair: Charles Bentley Swing Chair Natural - View on Wickes
Best hanging egg chairs for your garden:
Best cocoon chair with standout design
Description
Smart, striking lines in dark grey with a circular shape and all-weather rattan give this hanging
Pros
Cover is good quality
Sturdy and strong
Comes with cushions
Cons
Dark frame may not fit all garden decor
Best value egg chair deal
Description
There's nothing understated about this curvy cane-style beauty. Available in grey, black, or
Pros
Sturdy
Weatherproof
Great value
Best classic hanging cocoon chair
Description
A clean, grid-like weave and shiny steel frame make this Charles Bentley single-seater hanging egg
Cons
Cushions are not waterproof
Best value clever folding design
Description
Snatch some quality me-time in this sturdy yet compact New Hampshire Foldable Hanging Chair. With
Pros
Cleverly folds flat for storage
Available in a single or double size
Cons
Will need to be stored indoors in winter
Best luxury cocoon hanging chair
Description
If you think your garden needs something new and want to splash out on a contemporary piece, get
Pros
Quirky
Made from top-quality birch wood
Folds flat
FAQs
Why should I buy a garden egg chair?
Happy centre stage on your patio or tucked away in a quiet corner at the bottom of your plot, these hanging chairs are the only place you'll want to sit in your garden this year. We think this is the best furniture for lounging around.
Big enough to sink into, their unusual egg shape wraps above and around you, creating an immersive and supportive experience. With the seating pod suspended from a sturdy stand, you can sit and sway gently in the breeze, adding to the feeling of pure escapism.
What type of hanging egg chair should I get?
Hanging egg chairs look like no other piece of outdoor furniture. Their arching stands and egg-shaped seating pods immediately catch your eye and instantly become the seat of envy. This year's hottest designs are larger and bolder than before, with room for two or even three people to kick back.
They're perfect for couples and getting cosy with friends when social distancing is a distant memory. A tactile mix of the open weave, all-weather rattan and a smartly finished metal stand, they also add a sculptural feature to a deck or patio, looking super chic all year round.
These al fresco beauties come in a range of different colours and styles, so you can pick and choose the design that's best for your individual outside space. Intricate macramé is a big look for furniture this year, and there are plenty of hanging chairs that mimic this fine meshwork. Double up with the new back-to-neutrals trend and the overall effect oozes elegance.
For a dramatic twist, pick out the same intricate design in a darker colour. Charcoal grey and near-black cocoons will both show off the chair's fine lines and make a graphic contrast to many outdoor settings.
Feeling even bolder or just tempted to try something different? Then go for a retro-inspired, rib-style seat. Reminiscent of chunky bamboo numbers that were a hit in the 1970s, these have cleaner, more prominent lines, often arranged in a grid.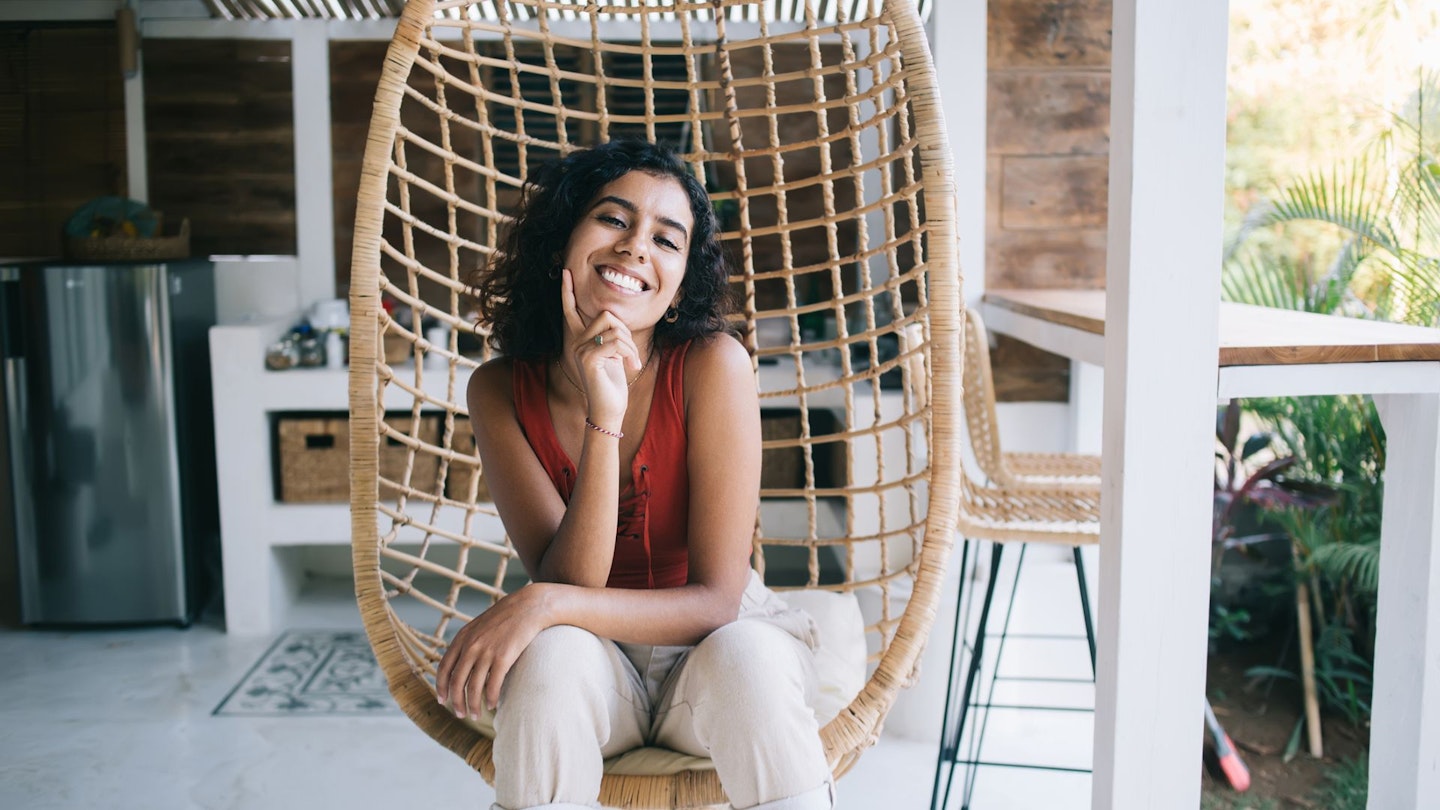 How much should I pay?
Hanging egg chairs differ hugely in cost so it's worth knowing a little about how they are made, and the different materials used, so you can decide where your budget is best spent. Single designs can start from £280, while larger three-seaters can go up to £1,200.
It's not just size alone that dictates the price tag – there is a wide variation in the quality of materials used and this often impacts how they perform and withstand the weather.
Most open-weave chair designs are made from synthetic or all-weather rattan. Known as high-density polyethene (HDPE), polypropylene (PP) or polyvinyl chloride (PVC), they have various ingredients added to improve their durability before being woven around a sturdy and curved aluminium chair frame.
These strands are tough and hardwearing and above all, weatherproof, making them ideal for life outdoors in the Great British climate – but there is one technicality worth noting. The way the strands are coloured can often determine whether any scuffs are noticeable, so do read the small print. In mono-extrusion products, the colour permeates completely, so scuffs are hidden, while with dual-extrusion techniques, only the surface is coloured, so any damage is obvious.
How should I position my egg chair?
With a smaller footprint than your average outdoor sofa, a hanging cocoon seat can sit proudly alone on a deck or be pulled up as an extra garden armchair, alongside other garden furniture. Because they hang from a stand so you can still see the ground underneath, they give the illusion of extra space. Position them so they hover over a colourful rug and the effect will be even more enticing.
Because the seat can usually be quickly detached from the stand, they take far less effort to move than a traditional sofa, so you can easily change your location and view as the mood takes you. Perhaps you'd prefer a sunny spot just outside your back door through the winter but a shady retreat at the bottom of your plot in summer? No problem!
It's worth remembering that these style statements also work beautifully indoors, so if you have space in your conservatory, why not bring them in for the worst of the winter? Some stands are designed to come easily apart while others, once assembled, can be harder to dismantle, particularly if they have been left outside for a lengthy period.
The frame is designed to be left outside in most weather, but it's worth thinking about where you'll store the cushions during heavy or persistent rain. Adding a storage chest somewhere close by makes it easy.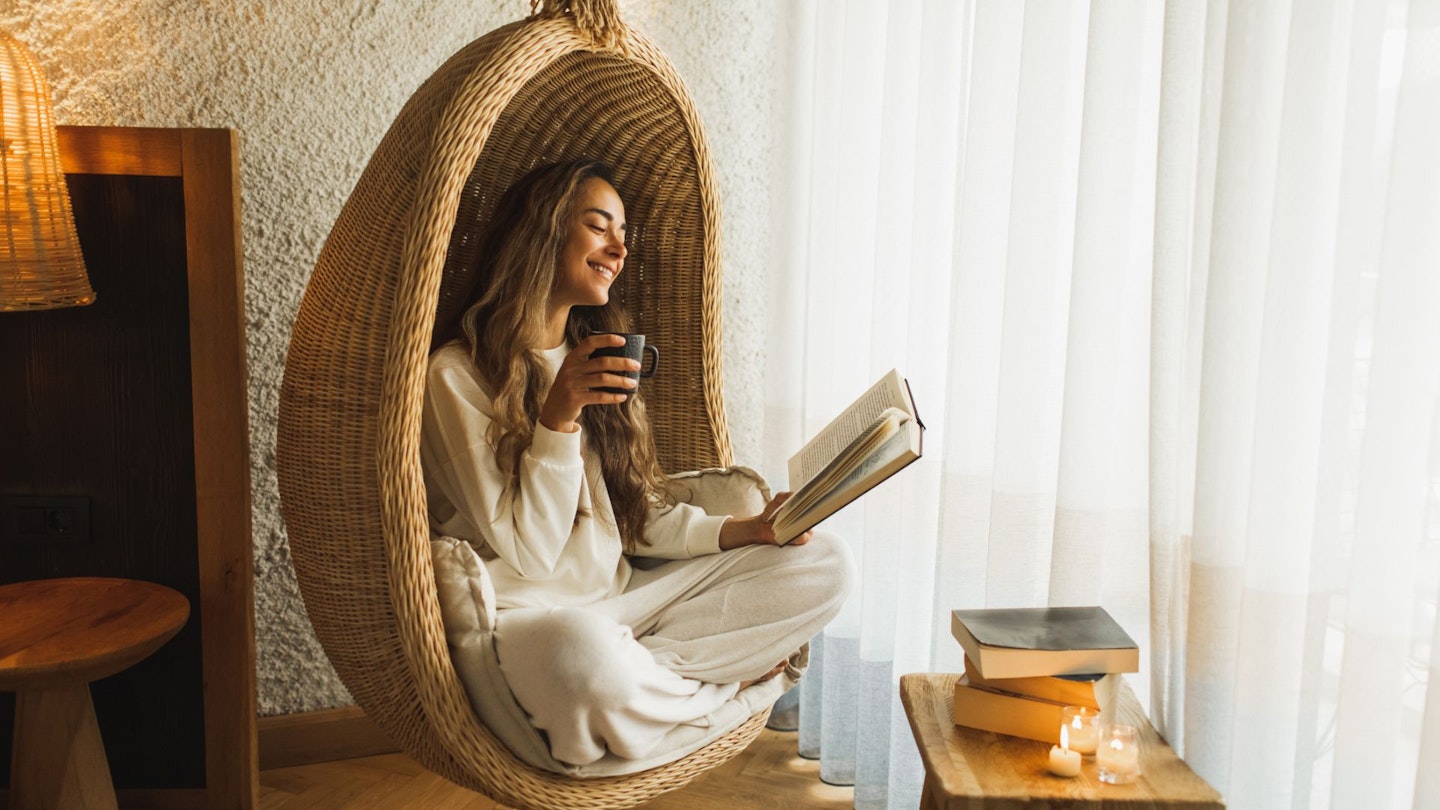 How do I hang up my egg chair?
You can buy hanging egg chairs on their own to suspend from a tree or pergola if it's strong enough, but most come with a dedicated metal stand. These are usually made from tubular steel or lightweight aluminium and are powder-coated to create a smart, coloured finish.
They consist of a curved upright section and flat base that neatly bolt together to form a rigid stand. Most bases tend to be circular or oval loops with crossbars for extra strength. While a few models feature more traditional cross legs or a horseshoe design.
When it comes to the quality of the design, details such as the hanging chain, the top-end cap (that seals the stand) and the bolts or rivets that join the frame are all good indicators of a well-made product. The cap and rivets should be smooth and well-finished and the chain links should hang straight without catching.
What cushions should I get for my egg chair?
Seat cushions are a huge part of any hanging chair, as they provide a delicious sense of comfy contentment. Most chairs come with a single rectangular, quilted pad that wraps around the inside of the chair to form a seat and backrest, while a few designs have shaped cushions with a high back, seat pad and tapered arms. Due to the extra tailoring, these often cost more and come with a separate, tie-on headrest.
Do check how weatherproof the cushions are and decide if you're prepared to pay extra to minimise the faff of storing them or invest in furniture covers. If there's no mention of cushion quality, then you'll need to bring them inside at the slightest glimpse of a shower.
There is an increasing number of cushions that can be left in place except in the heaviest rain, at a cost. Often referred to as all-weather or shower-resistant cushions, these relatively new products have fibre-filled inners that allow water to drain straight through.
Covers come in a range of gorgeous shades. Cream, light grey and charcoal are all on-trend this season and most are UV fade-resistant, machine washable and quick to dry.
Description
Discover everything you need to know to make your outside space look fantastic, quickly and
Jill Morgan writes regularly for Modern Gardens, and loves everything to do with gardens, plants and outdoor living. Her long thin, town garden is the setting for many family and creative projects from bird feeding and veggie growing to den building and mini-pond dipping.