Coming out of the winter months and into spring, we start to see more British garden birds still make their way to our bird feeders looking for food - which is why is it vital to keep them fully stocked even in bad weather. Putting a bird feeding station in your back or front garden allows space for these birds to come and perch when you want to enjoy British nature. From September, bird feeders should be placed in sheltered locations out of the most severe winds.
Black Friday deals on bird feeders
We interrupt the regularly scheduled content to let you know that although Black Friday is over, there are still plenty of discounts to take advantage of throughout the Cyber weekend, including a whole host of Black Friday deals on bird feeders. Want to grab a bargain? These are the best deals still available or keep scrolling to continue reading our buyer's guide.
Shop Black Friday garden furniture deals on: Amazon | Argos | B&Q | The Range
40% off: Personalised Garden Hanging Bird Feeder, WAS £25, NOW £15
25% off: Personalised Round Hanging Garden Bird Feeder, WAS £26, NOW £19.50
Save 28%: Honeyfield's Wild Bird All-in-1 Dining Station, WAS £49.99, NOW £35.99
Save £8: RSPB Premium Feeding Station, WAS £38, NOW £30
8% off: iBorn Squirrel Proof Bird Feeder, WAS £23.99, NOW £21.99
If you're upgrading your garden with some modern furniture or a cosy cocoon chair, you'll want something to watch while enjoying the outdoors and what better than a bird feeder to encourage wildlife into your outdoor haven? You can always think about having a bird bath or a bird table in your garden too. Wildlife houses are a good idea for keeping useful and garden-friendly creepy crawlies safe, too.
Whether you want to enjoy birds flitting about your bird feeding station with a cup of tea or just see them come in and out, bird feeders can help to ensure they keep coming back.
Best bird feeders at a glance
• Best bird feeding station with all-in-one: Honeyfield's Wild Bird All-in-1 Dining Station
• Best window bird feeder: Kingfisher Window Bird Feeder
• Best value bird feeder: Oakdale Wild Bird Feeder Pre-Filled with Premium Seeds
• Stylish bird feeder: National Trust, Vierno Diner Feeder
Which bird feeder attracts the most birds?
According to the RSPB, there are different types of bird feeders to consider that will suit your garden and the type of wildlife you want to attract. So, we've got some information on that below.
Seed feeders: These are ideal for small birds to medium-sized birds like sparrows, robins, finches, woodpeckers and blackbirds and can be hung on a bird feeding station, tree, hook or anywhere suitable. They tend to come in a variety of shapes and sizes, so have fun picking out a seed feeder to fill with sunflower seeds and hearts, or other seed mixes.
Ground feeders: This is a bird feeding table that sits low to the ground and is ideal for birds like blackbirds, thrushes, wrens and robins. But these can also attract other animals looking for food like squirrels, pigeons, rats and cats so consider getting a protector cage to prevent them from getting access.
Nut feeders: These are perfect to attract birds like woodpeckers that can cling to the feeder and are often made from steel mesh. RSPB recommends, "The mesh size needs to be large enough to prevent beak damage and small enough to prevent large pieces of nut from being removed – about 6 mm is a good compromise."
Suet feeders: These feeders have wider holes so that birds can access the suet balls or suet cakes that fit inside. Suet feeders will likely attract members of the tit family and starlings.
Best bird stations
Here's our selection of the best bird feeders we recommend, with every kind of garden or balcony in mind.
Best bird feeding station for easy assemble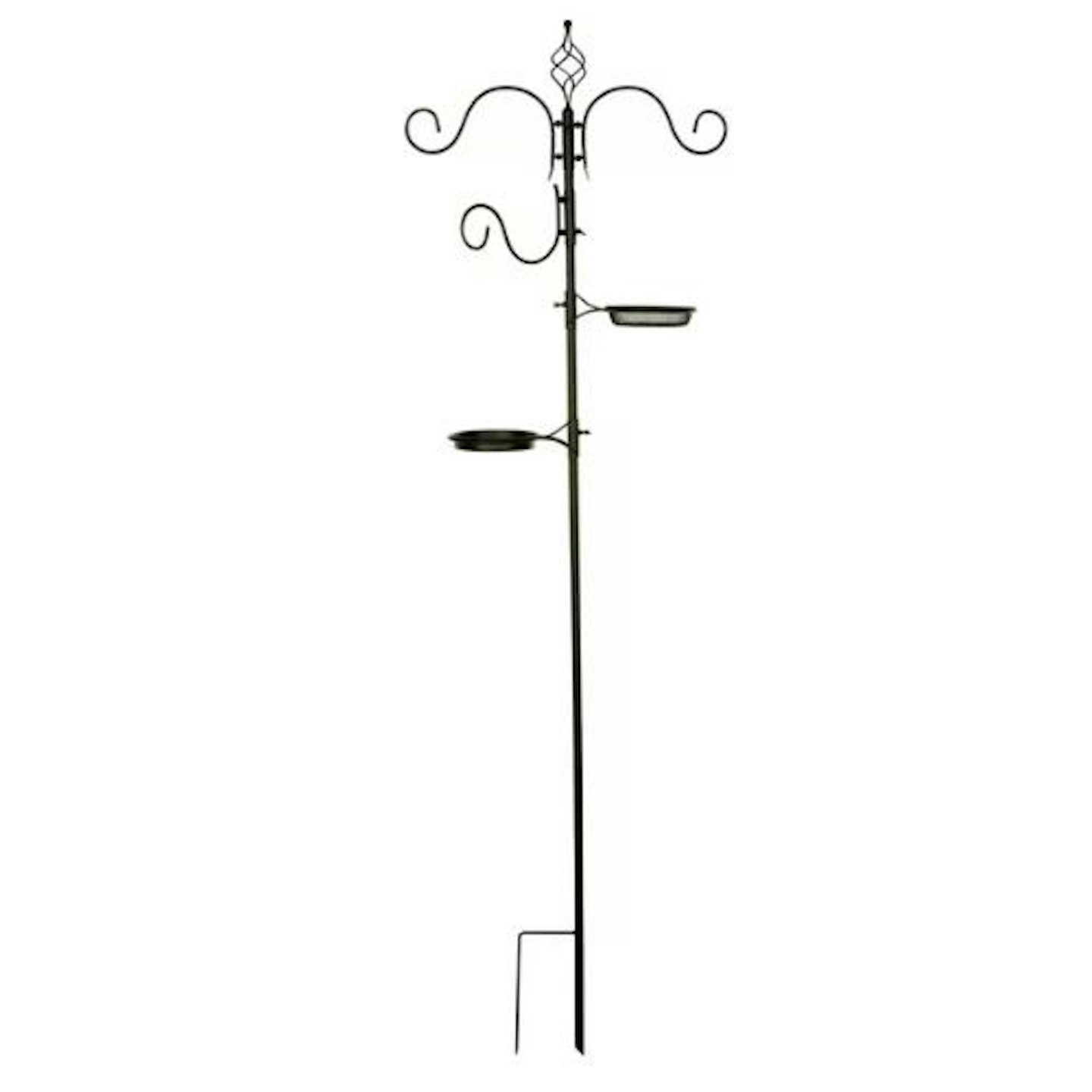 Amazon
Description
This is a great bird feeder with different heights and is extremely easy to assemble. We like that
Pros
Easy to assemble
Three-piece design
Cons
Some reviews say it was thinner and shorter than expected
Best bird feeding station with all-in-one
On sale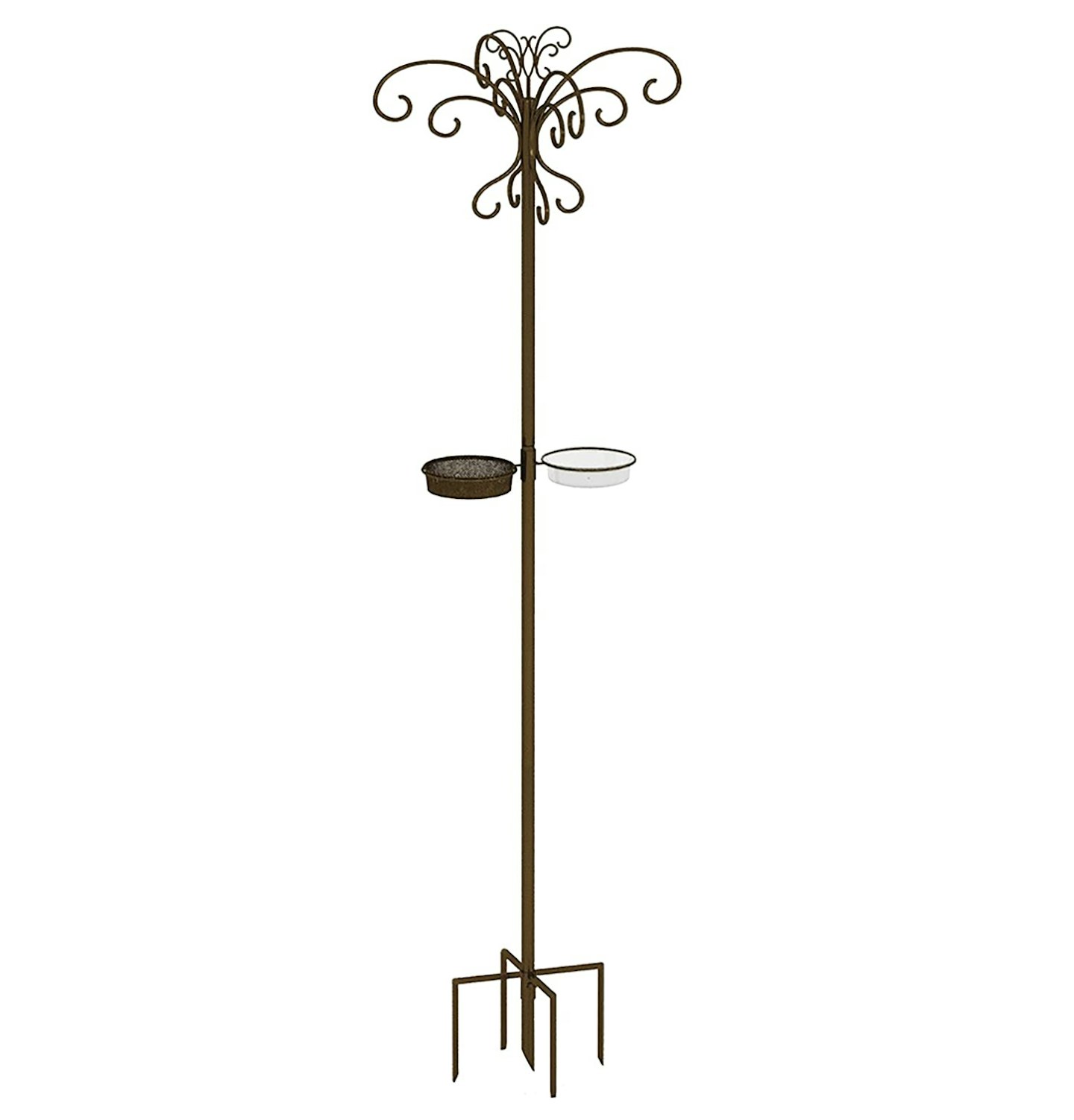 Amazon
Description
The birds will have lots of space on this all-in-one bird feeder with 12 hangers, giving lots of
Pros
Twelve hanging points - lots of room
Bronze finish makes it look striking
Well made
Cons
Some reviews say it shakes a lot in bad weather
Best wooden bird feeding station
On sale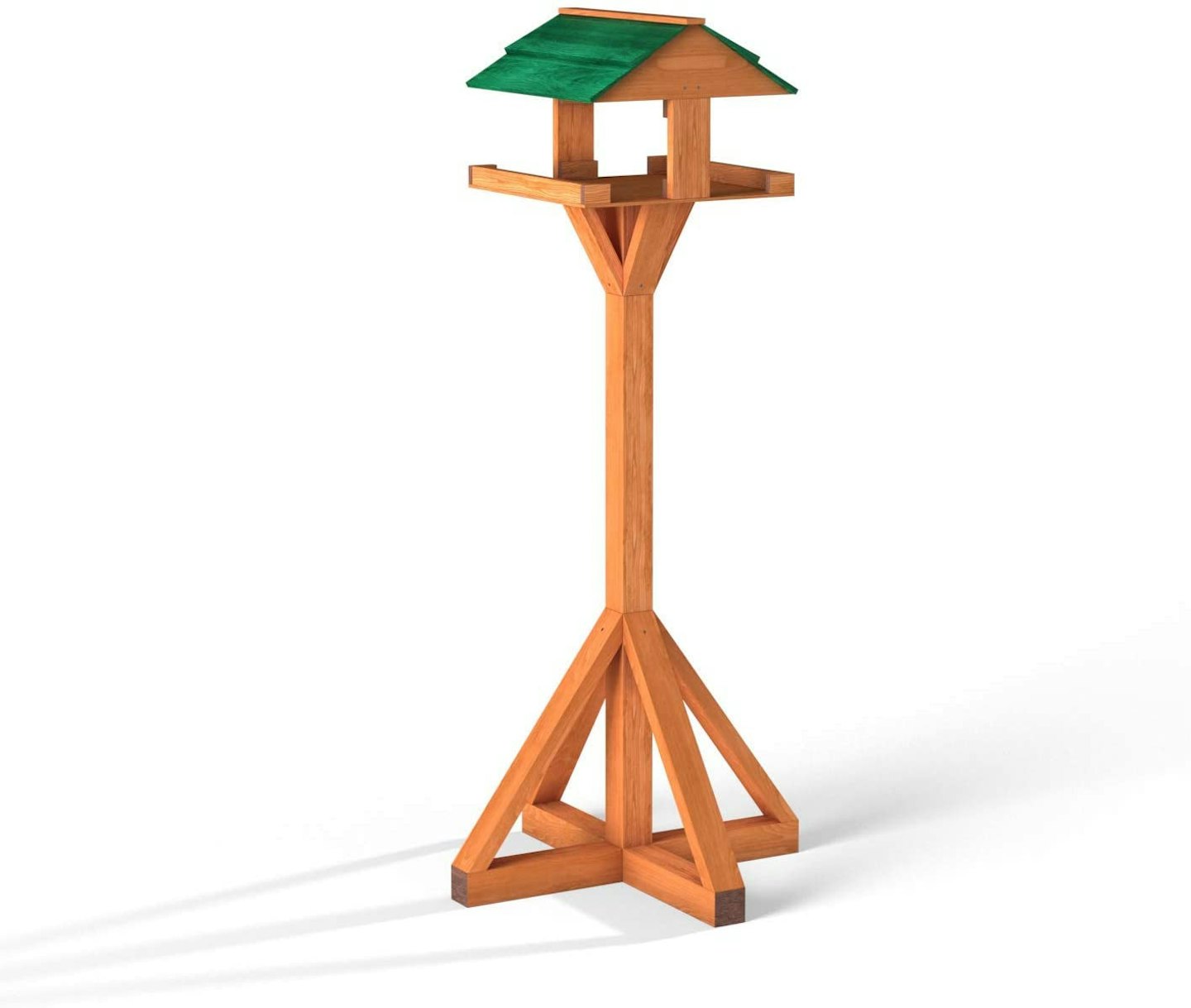 Amazon
Description
Handmade in the UK, this sturdy wooden bird feeder is made out of sustainable wood made with
Pros
Sturdy
Sustainably treated wood
Best smaller bird feeder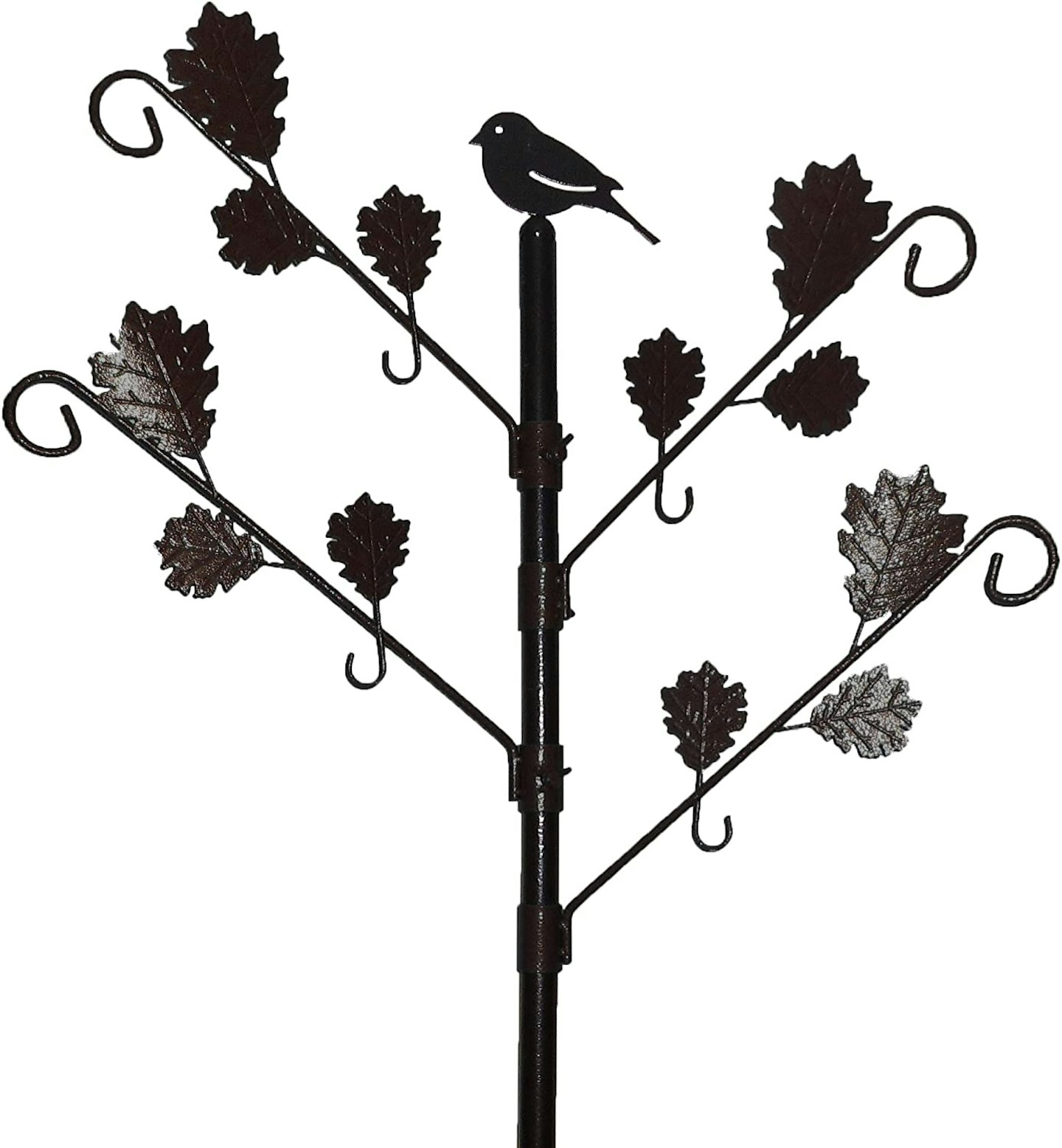 Amazon
Description
This Green Jem bird feeder is an attractive station to add to any modern garden. With the cutout
Pros
Great for small spaces
Good value
Best large bird feeding station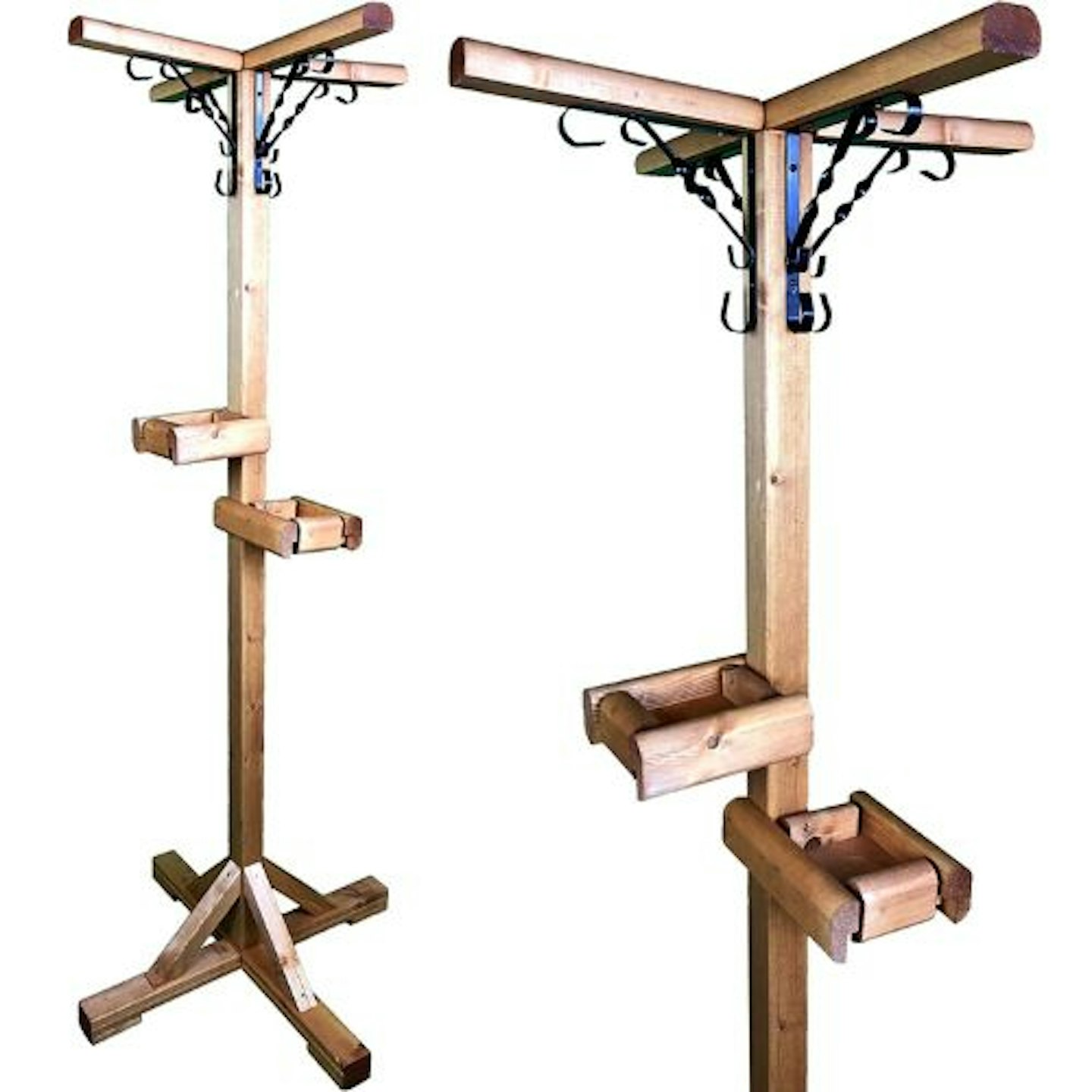 Amazon
Description
Another multi-function bird feeder, this station is great for those with larger gardens. It has a
Pros
Good for large gardens
Sturdy design
Cons
It is a little bulky and may not be suited for smaller spaces
Best bird feeder with accessories
Description
This bird feeder has three hooks and two dishes so that you can adjust what you want to attract
Pros
Lots of choice in adjusting accessories
Easy to set up
The best simple bird feeding station
On sale
Description
Not looking for anything fancy? This Honeyfield's bird feeding pole is great if you just want a
Pros
Great if you're looking for a minimalistic look
The best bird feeding station for easy filling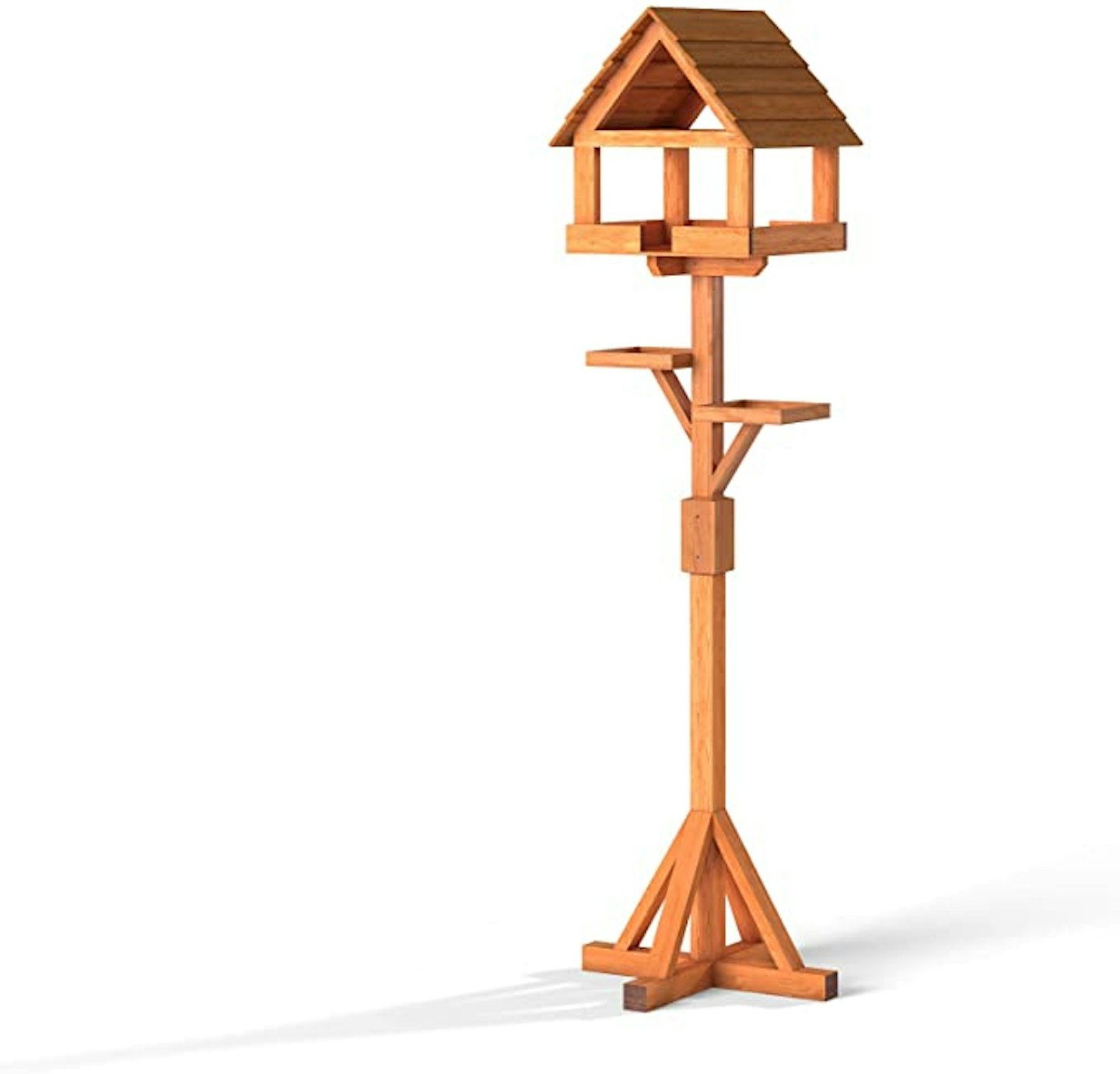 Amazon
Description
A classic-looking bird table, this Hutch Company feeder has a great shelter so birds can come in
Pros
Anti-bacterial, sustainable wood
Sturdy and lots of room for birds to feed from
The best hanging bird feeding station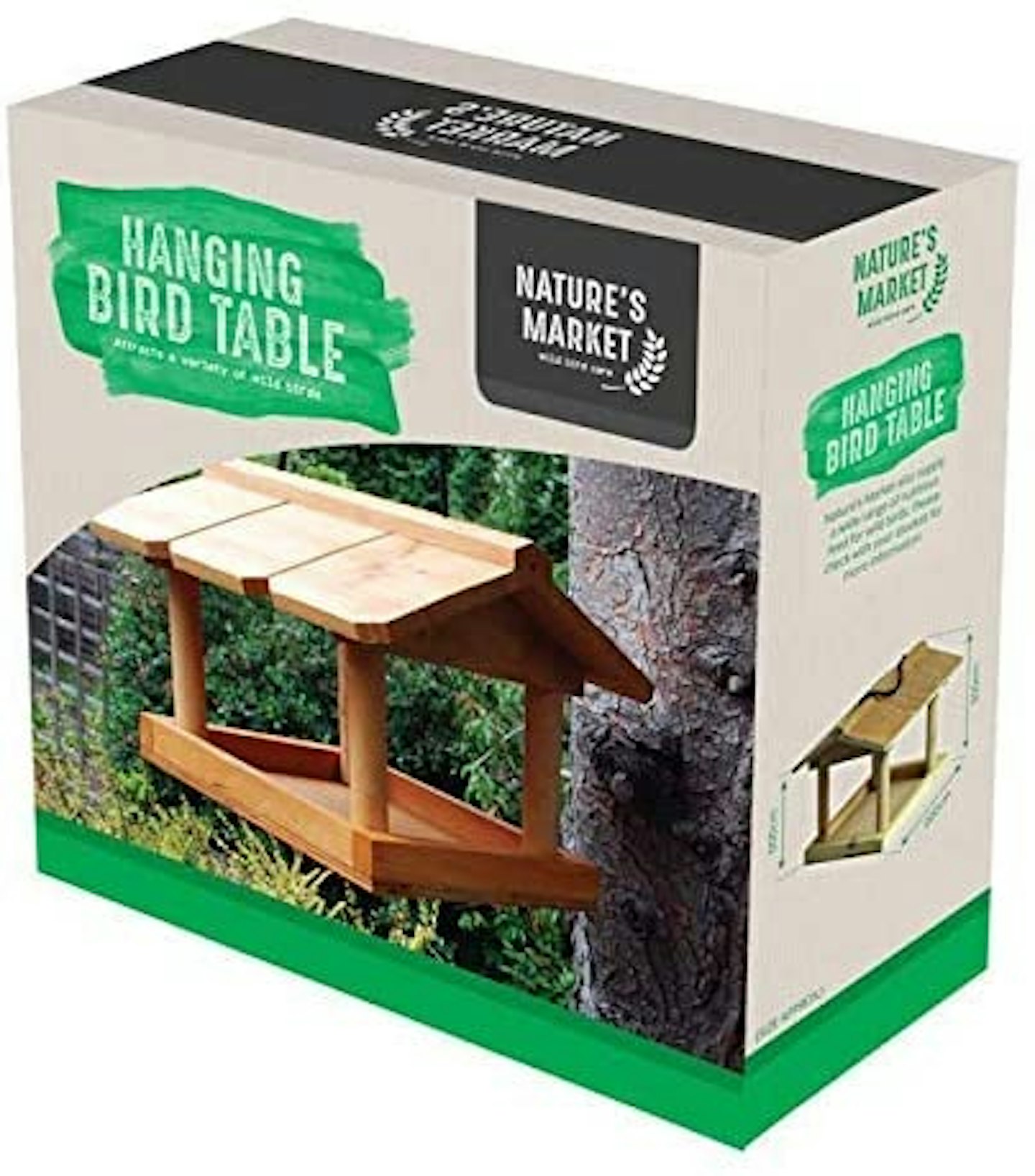 Amazon
Description
Don't have anywhere to put a birdhouse or bird feeding pole? This hanging bird table by Nature's
Pros
Great for gardens with a lack of standing space
Great value
Best bird feeders
Best heavy duty bird feeder
On sale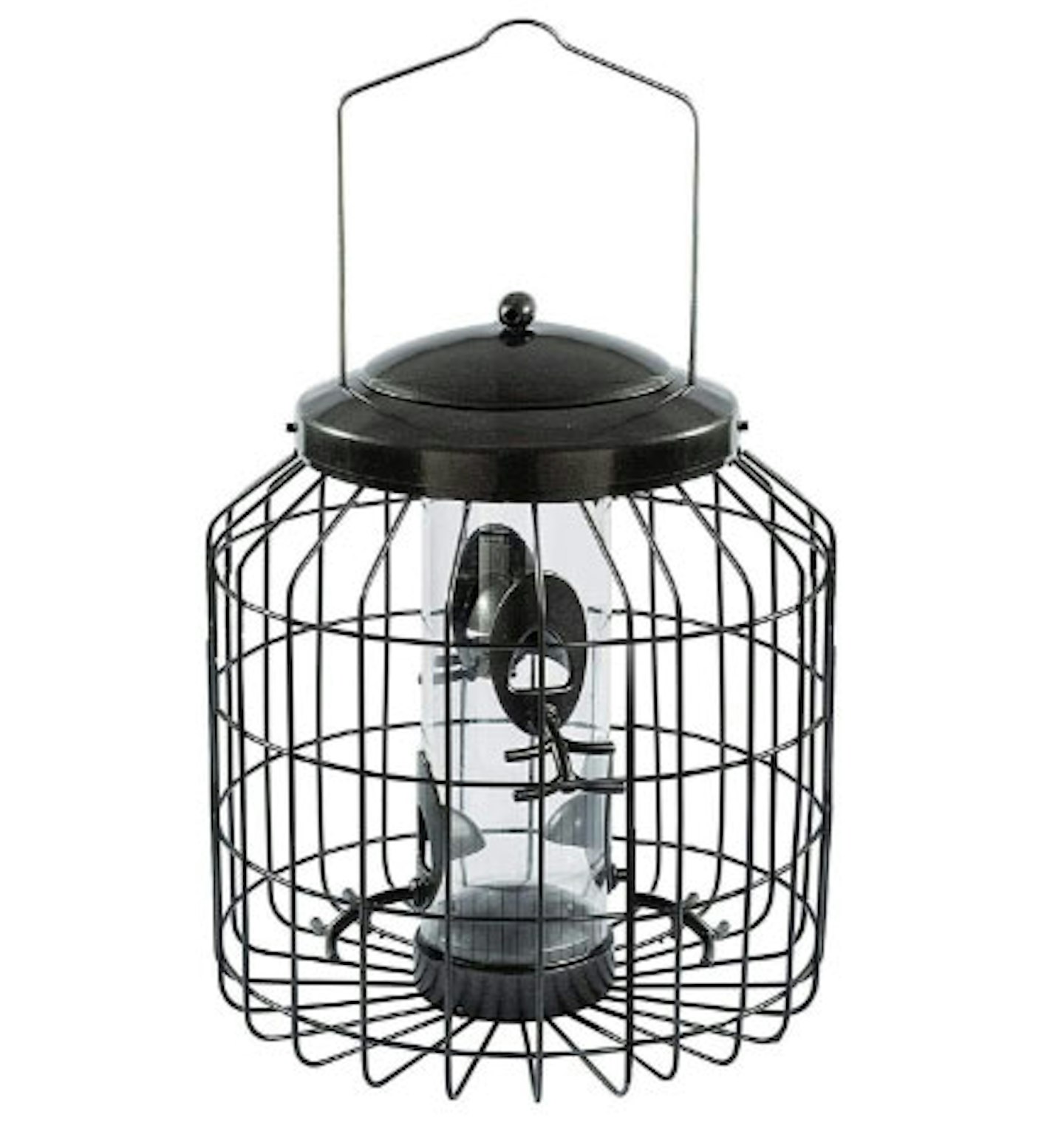 Amazon
Description
This caged bird feeder provides maximum resistance to squirrels and larger birds. You can also
Pros
The idea of a caged feeder makes it easier for little birds to get some food
Don't have to worry about it getting blown away in the wind
Cons
Doesn't look as pretty as some on the list
Best window bird feeder
On sale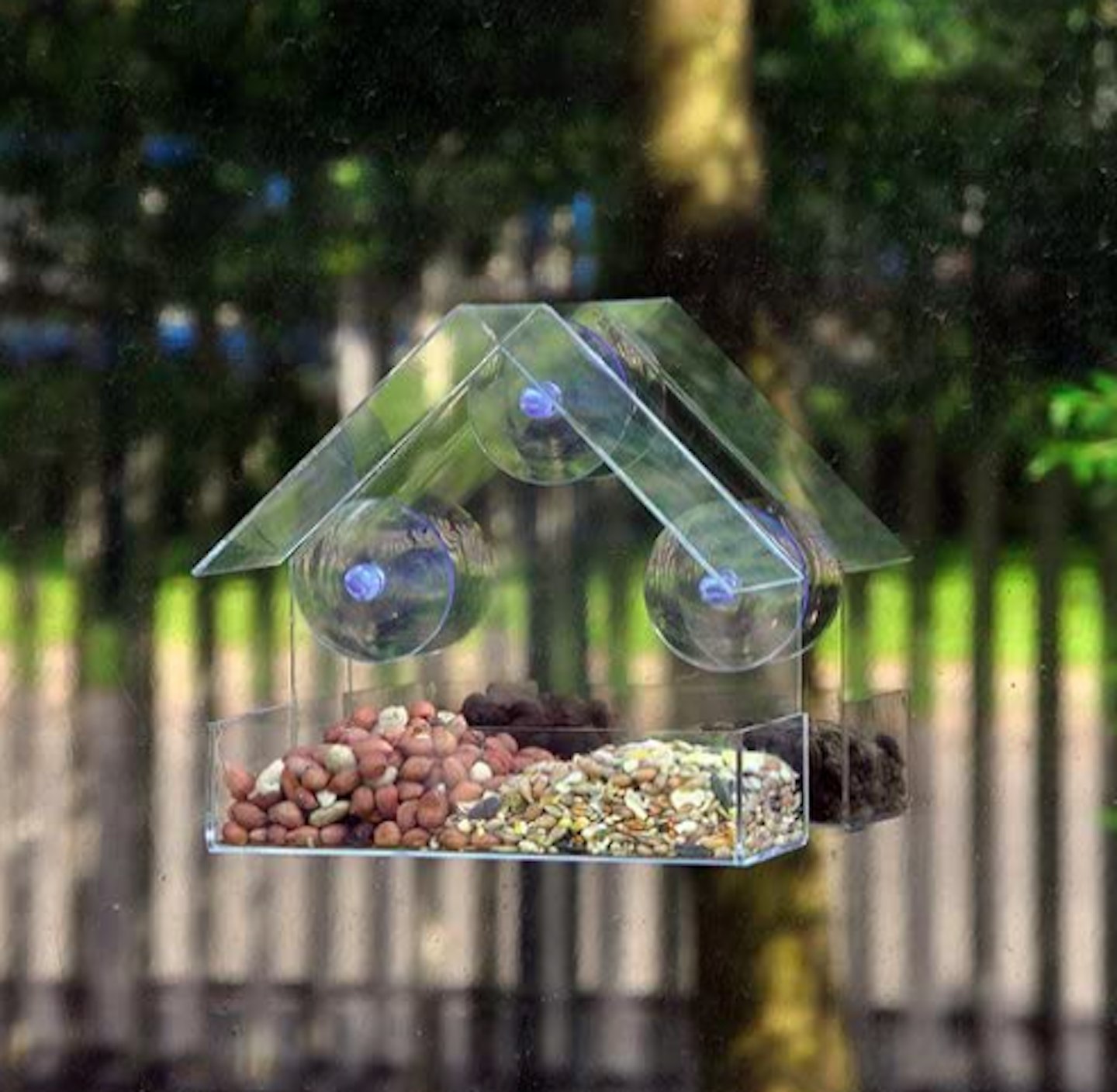 Amazon
Description
Some aren't lucky enough to have a garden. If you live in a flat or have to share a garden, you
Pros
Sturdy, takes the weight of the birds
Cons
Be careful of marks on the window if you take it off
Largest bird feeder
On sale
Description
From the National Trust, we recommend this six-port feeder, which offers a great food source for
Pros
Protection from squirrels
Tough, long-lasting
Stylish bird feeder
On sale
Description
Elegant, attractive and stylish, this bird feeder caught our eye. Simply hang the feeder from a
Pros
Elegant, attractive
Easy to hang up
Description
Attract a variety of birds with this beautifully designed feeder from the National Trust. It has a
Pros
Beautifully-designed
Easily to replenish
Can I build my own bird-feeding station?
If you're an avid DIY-er, all you need is some wooden panels and a few screws. You may want to invest in some anti-fungal and anti-bacterial wooden gloss to ensure that the birds will be safe when they're eating.
Check out this video below for a full example of making your own bird feeder.
Can I feed birds on a budget?
Of course! Making your garden the best it can be doesn't have to be expensive, it can be a bargain. There are many ways of feeding birds than having to fork out on smaller supermarket packets frequently.
One way is to buy in bulk. If you have the space to store it then buying a large bag of birdseed or nuts is a great way to cut back on prices.
If you don't have space, you can also hand-make your own bird food. You can make fat balls with leftover fats from meats you have may already cooked. It's a great way to have a DIY session with kids or grandkids too!
FAQs
Where should I hang a bird feeder?
It's easy to pick up a bird feeder from any common garden centre or home store in the UK. Usually, the problem is getting the bird feeder in the right place so that the birds actually feed on it and predators don't steal the food!
Firstly, you should always put your bird feeder near some green space - like a tree or bush. This helps to ensure the birds aren't exposed to the open and are safe from predators. This goes for noisy spaces too, which will scare birds off.
Remember stability. You want your bird feeder to be stable enough that it doesn't fall over and can take the weight of the birds. You can put metal spikes or secure hanging lines to ensure that it doesn't affect the feeder.
All birds are different, some like feeders higher up and others - like blackbirds - like to feed on the ground. Consider investing in a few feeders and placing them around your garden to test and see which works best. Remember you can leave out nuts and seeds on floors and flat spaces to see if birds start to pick them up.
Other animals can become a problem. Squirrels and foxes are pesky and will come back if they have access to constant food and scare away birds. To clarify, if you want to attract more birds, make sure to hang your feeders up higher. This is so foxes can't get them and away from any place, and squirrels can jump onto them. You can even get squirrel baffles to help protect your bird feeder, too.
How do I prepare my garden for nesting birds?
Spring is here - and we're shifting towards brighter days. Now, there will be warmer weather, more sunshine, blooming flowers and hopefully birdsong, too. At Modern Gardens, we're keen on getting everyone to create a haven for the wildlife native to the UK. Birda - a new birdwatching app - has some tips to attract birds into your backyard.
Food
First, comes food. Feeding birds should "ideally be done to supplement any natural food sources, especially during periods of cold and before migration," says Birda. For example, plating natural vegetation in your garden - fruit, plant and seed will create a miniature ecosystem and helps birds out. Plus, they're more likely to nest nearby food sources.
Not only that but "keeping your soil rich in nutrients and full of loam will encourage a host of worms and soil-dwelling creatures," meaning your birds will have even more food to gather. Additionally, leaving leaves raked under trees will keep the "soil warm and moist" which encourages a variety of leaf litter insects for birds to feed on.
With this, your garden may become a better nesting site. However, there are a few things to check before feeding the birds in your area. First, Birda recommends checking out local organisations for information on disease outbreaks. Just like us, bird species eat different things, "therefore will require different types of feeders," so Birda suggests leaning into a 'trial and error' approach when it comes to feeders, as feeding can change from bird to bird and the time of year.
Water
"Proximity to a quality water source will be a larger factor when considering your garden a site for nesting," says Birda. After all, birds need water to drink and clean themselves. When putting your bird baths out on the lawn, make sure the water is clean. Having a running water feature may prevent it from frosting during the colder months. Not only that but moving water is "natural-looking, reduced bacteria and is likely to attract more birds than still water."
Vegetation
Spaces that feel safe will attract birds, says Birda, and vegetation "is their primary means of finding this safety." If you have enough vegetation that will keep a shy sparrow or anxious finch sheltered, then you could be on track. After all, when vegetation is dense, birds can conceal themselves, "giving them protection from the elements and any other threats". Whether shrub, undergrowth or in a tree, vegetation can take many forms. Birda claims that "birds will thrive in and often prefer indigenous vegetation," so all of this will depend on where you live - and what you have around.
Safety from Predators
As mentioned previously, safety is a bird's number one priority. As a result, birds will not nest where they feel unsafe. Though birds can fly away quickly from any predators, they're still at risk when they're wanting to feed, drink and nest. It's hard to keep your (and your neighbour's) cheeky little cat at bay, but making sure the birds have a fair chance to thrive depends on where you place bird boxes. According to Birda, birds will find a place to nest anywhere including in trees, in burrows and on the side of cliffs; even "man-made structures offer refuge in an urban environment."
Nesting Materials
Lastly, there is the question of nesting materials - a garden with "adequately naturally occurring next construction material will be far more attractive to birds." For this Birda suggests not raking up "leaves and loose twigs, feathers, any loose moss or grass tufts" as this will encourage sweet-singing birds to take refuge in your garden. Birds will build with just about anything they can find though, so clean up any rubbish to avoid any harm to wildlife.
What to read next:
Beautiful bee inspired décor to brighten up your outdoor space
Description
Discover everything you need to know to make your outside space look fantastic, quickly and