Fire baskets are the must-have garden accessory this season. The safe and stylish way to spend quality time outside with loved ones, you can sit back and lose yourselves in the flickering flames and inviting glow. Yes – these wood and charcoal burners have been around for a few years now, but there are tons more innovative products to choose from, with the open-sided designs being the (ahem) hottest!
With tall sides to retain burning logs and briquettes, plus gaps to allow everyone to have a good view of the flames and bask in the warmth too, they are the perfect centrepiece for any alfresco seating area. Pull up the chairs and outdoor sofas, bring out the warming drinks, and snacks and gather your friends, for memorable times outside.
There's an ideal fire basket design for everyone, at very affordable prices too and quite simply, they can transform how you spend your time outside this autumn and winter. Big enough to make a real impact, and add atmosphere but easy enough to tuck and store away when not in use, fire baskets introduce a real touch of style and excitement to your courtyard or garden.
New for this year is clever multipurpose designs that are not only chic fires but also double as handy side tables, stools or even drink crates when cold. Another key trend is for products that have a perforated basket suspended within a sturdy open frame. Not only do the tiny holes create a mesmerising and magical glow when lit, but they also act as an effective guard to carefully contain flying sparks and embers.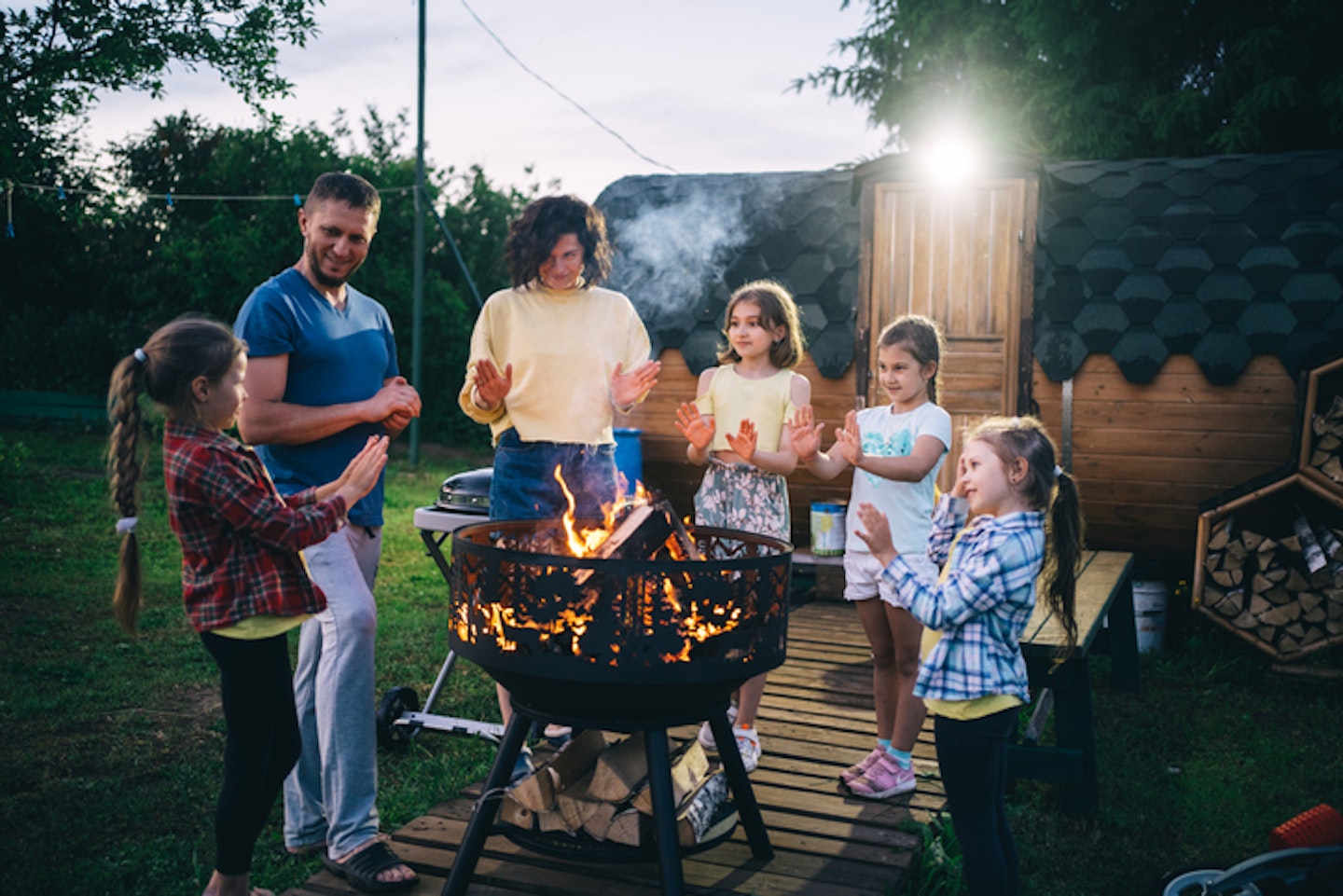 Best fire baskets
Best fire basket with laser cut detail
Description
Neat and high-sided, this La Hacienda fire basket is the perfect choice for small spaces. The
Best sculptural fire basket
Description
A contemporary design that dazzles, lit or unlit. Made from sturdy raw steel, the multiple fins
Best tall fire basket
Description
This tall cone-shaped fire basket makes a dramatic statement. With a small footprint and short,
Best three-in-one fire basket
Description
Neat and nifty – Extinguish flames instantly by rolling the burner over. The clever rotating fuel
Best fire basket with 360-degree view
Description
This show-stopping design with a suspended fire basket will be the envy of all. Offering clear
Best fire basket globe
Description
Standing at 73cm high, this striking globe-style basket makes a fantastic centrepiece. Taking a
Best fire basket for burning logs or charcoal
Description
Fancy a fire basket that's high on heat and style? This striking centrepiece is hard to beat with
Best fire basket with pattern
Description
Worried about flying sparks and falling logs - try this funnel-necked design. The narrow opening
Best classic shape fire basket
Description
Generous in size and standing proud on long curved legs, this steel fire basket is a real
Best compact fire basket
Description
Neat, high mesh sides and stainless-steel legs give this Tepro Milburn Square fire basket a
Fire baskets under £50
If you're on a budget and don't want to spend more than £50, we've rounded up some stylish steals.
Which fire basket shape is best?
Essentially a stylish and safe way to savour all the charm, crackle and aroma of a real fire, you can find a shape and size fire basket that suits your available space and seating arrangements. Casual lounge seating with plenty of room to spread out? Then opt for a low-level circular basket as a centrepiece that everyone can appreciate. Want to see the fire from a dining table? A square design will add a formal feel and provide extra height, impact, and guide smoke and sparks up, up and away from guests.
Many fire baskets are real standout designs. Ideal for creating a dramatic feature at the end of a path, placed in the centre of a spacious patio or to be enjoyed from inside the house as well as outside. Take your pick from stately cones, pared-back Scandi-style cubes and stunning flame-filled globes. Others have intricate laser-cut patterns – so you are certain to find one you like if you are after something a little more decorative.
What materials are on offer?
Most fire baskets are made from cast iron, steel, stainless steel or aluminium. All materials are sturdy and robust, but they do have other differing qualities.
Steel and stainless-steel fire baskets are affordable, and quick to heat up and cool down. Made from thin steel, they are also lighter than cast iron to lift and move, important if you like to vary your outdoor seating area or regularly stash the fire pit away from pets and little ones. Thanks to the smooth and uniform nature of the metal, shapes and designs tend to be cleaner and more contemporary than with other materials. Raw steel can rust and tarnish if left outside long term but retouched with high-temperature paint. Other on-trend finishes include Corten steel with its distinctive rusty appearance that improves and develops with age.
Cast iron fire baskets are solid and much heavier than steel. Great if you live in an exposed, breezy location or are worried about the basket being bumped into. An excellent heat conductor these burners are quick to heat up but slow to cool down, perfect if you love to linger outside long after the flames go out. As the name suggests this material is moulded into shape, making it the perfect opportunity to include ornate patterns and mouldings. The material is super strong but can rust over time if left in damp or wet conditions.
A few outdoor fire baskets are made from aluminium. Reasonably priced, lightweight yet extremely durable, these products will not rust but they can develop some streaking if left for months outside. Sleek, smooth and uber modern, the designs are simple and with minimal detail.
Any added extras to look for?
Designed to burn logs or both logs and charcoal, some fire baskets also come with handy extras which can prove a real game changer.
Mesh lids – usually with a handle built in – are great if you are worried about flying sparks and ash but still want to enjoy the flames. Do be warned that the handles on the covers do become very hot so always lift with a heat-gloved hand or metal tongs.
Fire poker – never underestimate how useful having an extra poker is for lifting off lids, pushing stray logs and coals back into the fire or raising the flames.
Grills – some fire baskets double up as BBQs and grills, perfect for smaller, impromptu get-togethers. Usually made from stainless steel, they are pretty easy to keep clean and super hygienic. Some baskets also have a secondary, smaller grill which is designed to sit inside the burner, under the fuel to allow a greater airflow and more even burn.
What to read next
Description
Get inspired each month with Modern Gardens magazine. In every issue, you will find the latest