Boho garden décor combines elements of Bohemian and quirky design. Also, it features a mix of vibrant colours, a fusion of cultural elements, patterned textiles and an overall relaxed and natural aesthetic. There's an emphasis on self-expression and creativity, so it's most certainly a trend for lovers of one-off finds on Ebay and Facebook Marketplace. The best garden accessories allow you to put your own mark of individuality on your outdoor space.
Mismatched furniture and an emphasis on personal expression create a relaxed and Bohemian atmosphere. Throw in shabby-chic elements – mix and match an outdoor coffee table, sofa and even a rocking chair. In addition, choose beanbags, cushions and throws with bold patterns or colourful floral prints and repeat motifs. A boho aesthetic is a style that embraces a relaxed, creative and free-spirited vibe. Look for colourful garden décor that adds a touch of cosy, fancies up a bare spot or adds an extra layer of interest.
Best boho garden décor at a glance
• Best boho outdoor rug: Boho Outdoor Rug – View on Amazon UK
• Best boho outdoor cushions: NDMMSO Set of 4 Cushion Covers – View on Amazon UK
• Best boho outdoor throw: Aztec Patterned Throw Blanket – View on Amazon UK
Boho garden décor can be colourful with patterned outdoor rugs, hanging macramé planters, hand-painted signs and whimsical wind chimes. Alternatively, contrast natural textures with eclectic planters or repurposed pots – fringing and tasselling abound and really, anything goes. Decorate with love and wild abandon as kaleidoscopic textiles are given a cosy touch with the addition of candlelight.
Be sure to get the ambience right. Warm and atmospheric lighting is the right vibe for a boho garden. Pair wicker or rattan seating and accessories with lanterns or string lights around a cosy fire pit or chiminea. Additionally, drape throws, mix-and-match vintage fabrics and comfy cushions to reflect a sense of free-spirited individuality whilst being inviting to guests. For some Bohemian inspiration scroll to the FAQs section below, or just go with the flow.
Best Boho garden décor
Best boho outdoor rug
Description
Embrace the art of imperfection with a Boho Outdoor Rug. This versatile and completely waterproof
Pros
Vibrant colours and patterns
Wipe clean
Waterproof
Best boho outdoor cushions
Description
Let your soul be your guide in design and be comfortable too, with the NDMMSO Set of 4 Cushion
Pros
Good value
Durable
Machine wash
Cons
Some reviews comment that the colour doesn't match the photos
Best boho outdoor throw
Description
Dance to the rhythm of your own décor with an Aztec Patterned Throw Blanket. Draped fabric or
Pros
Authentic design
Thick and warm
Skin friendly
Lightweight
Best boho outdoor lights
Description
Fill your space with stories – not just things – gather round the Tarsus USB Rechargeable Outdoor
Pros
Looks expensive
Long-lasting light on a single charge
Built-in timer
Cons
No specific product reviews
Best boho wall art
Description
Find freedom in a fusion of styles with handmade Macramé Wall Art from BeanDaikon, a star seller
Pros
Handmade
Customisable
Range of sizes
Cons
Results may vary as this item is handmade
Best boho wind chimes
Description
Create an oasis of Bohemian bliss with a gently swaying Bohemian Glass Window Suncatcher Colourful
Pros
Handmade
Gift wrapping available
Colourful
Artistic
Cons
No customisation available
Best boho planters
Description
Chase sunsets, not trends with a handmade Hippie Flower Pot Cover. This is an inexpensive way to
Pros
A bit different
Add personalisation
Gift wrapping available
Cons
Only one size available for this product
Best boho macramé plant hangers
Description
Celebrate the beauty of eclecticism with a very on-trend Boho Macramé Hanging Planter. This
Pros
Handmade
Range of style
Inexpensive way of getting the boho look
Cons
Colour and size will vary slightly due to the product being handmade
Best boho garden sign
Description
Let your space breathe with Bohemian ease with a metal Peace Sign Garden Stake. Add a little bit
Best boho outdoor lantern
Description
Design your sanctuary with wanderlust, inspired by these unique Handmade Recycled Copper Coloured
Pros
Handmade
Unique
Ethical business
FAQs
How do I makeover my garden?
In need of some garden makeover inspiration? Whether you're looking for vintage knick-knacks on a budget or you have the funds to create your own little piece of paradise, sometimes it's hard to know where to begin. So, it's a good idea to look at what others have done and get some handy tips.
Rachel Toal writes for Modern Gardens about Alison Bosworth's garden transformation.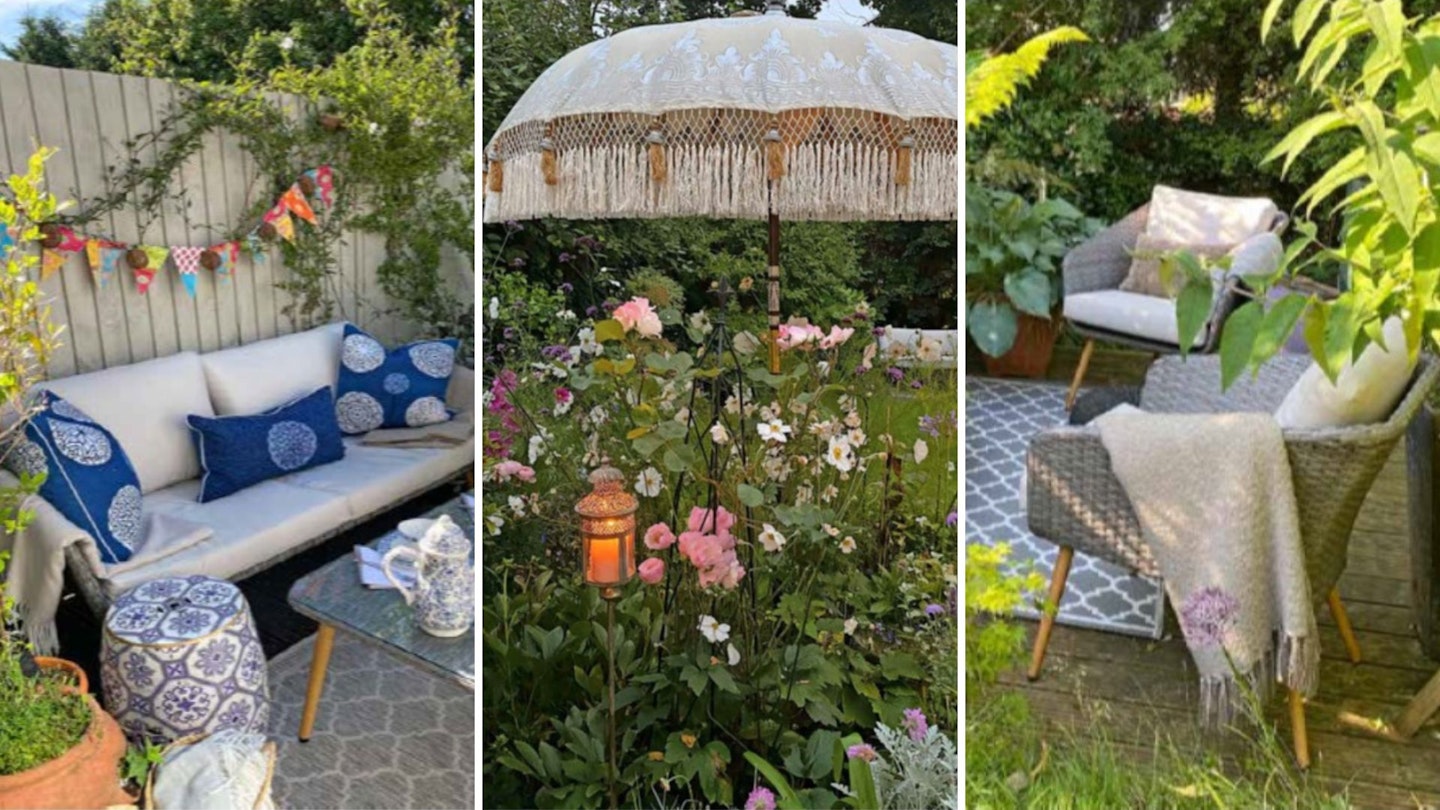 Behind the façade of Alison Bosworth's suburban semi lies a hidden gem. Lush, colourful and bursting with Far Eastern influences, her gorgeous garden belies its ordinary Midlands location. "Visitors get a shock when they step outside," she smiles. "It's easy to be fooled by our conventional exterior, so they don't expect those jungle leaves and tropical touches. I joke it's my little bit of Bali in Birmingham!"
Evolving organically, rather than with a set plan, the design has come together thanks to some clever spontaneity. "I'm quite a haphazard gardener!" admits Alison. "If I see something I like I go for it, and the end result is quite eclectic. We've got pretty cottage flowers as well as big jungle leaves. Each zone blends together, and doesn't jar." That seamless transition between traditional and exotic is the hallmark of Alison's garden.
Although 20 years old, the decking is still stylish with rugs cushions and throws collected on travels, as well as the odd bargain from H&M. This suntrap zone often sees Alison relaxing on comfortable chairs under the shade of one of her intricately handpainted parasols. Also brightening up the timber are Alison's beloved pots, which she switches throughout the year. From spring displays of tulips and daffodils to striking winter cabbage in the cooler months, there's always structure and colour to break up the space.
How can I add boho décor to my garden?
When adding boho décor to your garden, consider a blend of colours, textures and patterns. Also, embrace mismatched elements, personal creativity and a relaxed vibe. Remember, it needs to be comfortable and a functional outdoor space. Find unique and vintage items on Ebay, Etsy and Facebook Marketplace. In addition, you can recycle garden furniture and give it a new lease of life.
Use colourful and eclectic planters like ceramic pots, wooden crates, or repurposed containers to showcase your plants.
Hang macramé plant hangers with potted plants to add a boho touch.
Lay down colourful and patterned outdoor rugs to define seating or dining areas.
Mix and match outdoor furniture with colourful cushions and throws for a relaxed atmosphere.
Use lightweight, draped fabric or tapestries for shade and ambiance.
Hang string lights or outdoor lanterns for soft, enchanting lighting.
Incorporate Bohemian accessories like dreamcatchers, wind chimes and beaded curtains.
Create a succulent and cacti garden with artistic arrangements in decorative pots.
Display hand-painted signs, outdoor artwork or mosaic sculptures for a unique touch.
Add wicker or rattan furniture, as well as woven baskets and accessories to enhance the boho vibe.
What to read next
Cottagecore garden ideas for a self-sufficient outdoor space
Description
Discover everything you need to know to make your outside space look fantastic, quickly and
Natalie Knowles is a Homes & Garden Product Writer for Modern Gardens, specialising in garden trends. When she's not flexing her mow-how, Natalie is a successful artist and illustrator.