Finding the best fire pit tables doesn't have to be overwhelming. With all sorts of new designs and materials, there are now so many fire pit tables to choose from, making them the must-have garden furniture for chilly nights and al fresco dining.
Options vary from low-level dining tables that stand next to a comfy sofa, to spacious dining tables and sophisticated high-level bar designs. Whether you're enjoying a quiet night in or spending an evening with the girls – or boys! – and a few glasses of fizz, a fire pit table is a fabulous focal point around which to gather loved ones.
Black Friday deals on fire pit tables
We interrupt the regularly scheduled content to let you know that although Black Friday is over, there are still plenty of discounts to take advantage of throughout the Cyber weekend, including a whole host of Black Friday deals on fire pit tables. Want to grab a bargain? These are the best deals still available or keep scrolling to continue reading our buyer's guide.
Shop Black Friday garden decor: Amazon | Argos | B&Q | Homebase | Very
43% off: Concrete Propane Fire Pit Table, WAS £380, NOW £217.70
60% off: Black Ipata Firepit, WAS £59.99, NOW £20
20% off: REALGLOW Warmpact Rattan Table Gas Fire Pit, WAS £299.99, NOW £239.99
Save £200: LG Outdoor Milano Lounge Set With Gas Firepit Table, WAS £1,699.99, NOW £1,499.99
Save over £1,000: Gin 90 Low Fire Pit Table, WAS £5,145, NOW £4,116
We all love the charm and informality of a regular firepit. But, a sturdy raised design that provides room for eating and entertaining is even better! If you have free-ranging children and pets, then it's a safer option too. Providing warmth, light and atmosphere after the sun goes down, this classy bit of garden furniture with easy-light flames will revolutionise how you use your outside space this summer. This is an investment buy.
So, read on to find out about fuel options, design extras and the latest innovative designs. Materials to look out for when it comes to looking for a fire pit table include concrete, stainless steel and aluminium. This is so you can spend your hard-earned cash wisely and choose the best product to suit your plot and lifestyle.
Best firepit tables at a glance
• Stress-free flames: REALGLOW Warmpact Rattan Table Gas Fire Pit – View on Amazon UK
• Warm al fresco dining: LG Outdoor Milano Lounge Set With Gas Firepit Table – View on Robert Dyas
• Stylish combo: Cosiloft Black & Grey Square Coffee Table Fire Pit – View on Ruma
Best fire pit tables
Stress-free flames
Description
Hard-wearing and easy-care rattan effect combined with the convenience of gas makes this a no-fuss
Pros
Durable and conveinient
Gives off a lot of heat
Weather resistant
Cons
Burn time is not specified
Warm al fresco dining
Description
This full lounge set means you can gather around the fire pit with friends and family to stay warm
Pros
Double powder-coated aluminium frames mean no rusting
Chairs are stackable
Stylish combo
Description
The Cosiloft Black and Grey Square Coffee Table Fire Pit is perfect for extending your outdoor
Pros
Sleek
Glass protects from the wind
Cons
The cost of the surround, plate and cover needs to be factored in to end price
Small space winner
Description
This all-weather Maze Rattan Winchester Oval Fire Pit Coffee Table with its nifty offset fire
Pros
Incorporates storage
Great for smaller spaces
Cons
Need to store away in bad weather
Classic option
Description
Enjoy the warm glow of this Peaktop HF42191AA UK Gas Fire Pit With Cover in a classic design
Pros
Easy to use
Simple to put together
Cons
Igniter doesn't work as well as hoped
Rustic style
Description
Described as a fireplace, this low fire pit still leaves ample space for you to rest your drinks
Pros
Easy to light and stays burning in really windy weather
Gives off lots of heat
Cons
Lava rocks get incredibly hot
Party centrepiece
Description
Made from ultra-durable glass-reinforced concrete, this Fireglow Gladstone Rectangular Gas Firepit
Pros
Includes cover
Ideal for small spaces
Cons
Some reviews said that it didn't give off as much heat as they hoped
Show-stealing design
Description
This floating design in oiled teak has an elongated stainless-steel bioethanol burner. This Gin 90
Pros
Sustainable gas
Robust and weatherproof
FAQs: Best fire pit tables
Which material is best for a fire pit table?
Firepit tables come in a wide range of hard-wearing materials including reinforced concrete, aluminium, wood and steel. Each brings their own character and personality to your outside space, so it really is a matter of style.
There are many matching furniture sets available. For example, there are firepit tables accompanied by a sofa or dining chairs in the same material - if you're thinking of giving your patio a whole new look. Current favourites in the style stakes are homely all-weather synthetic rattan, sleek powder-coated aluminium, and glossy teak.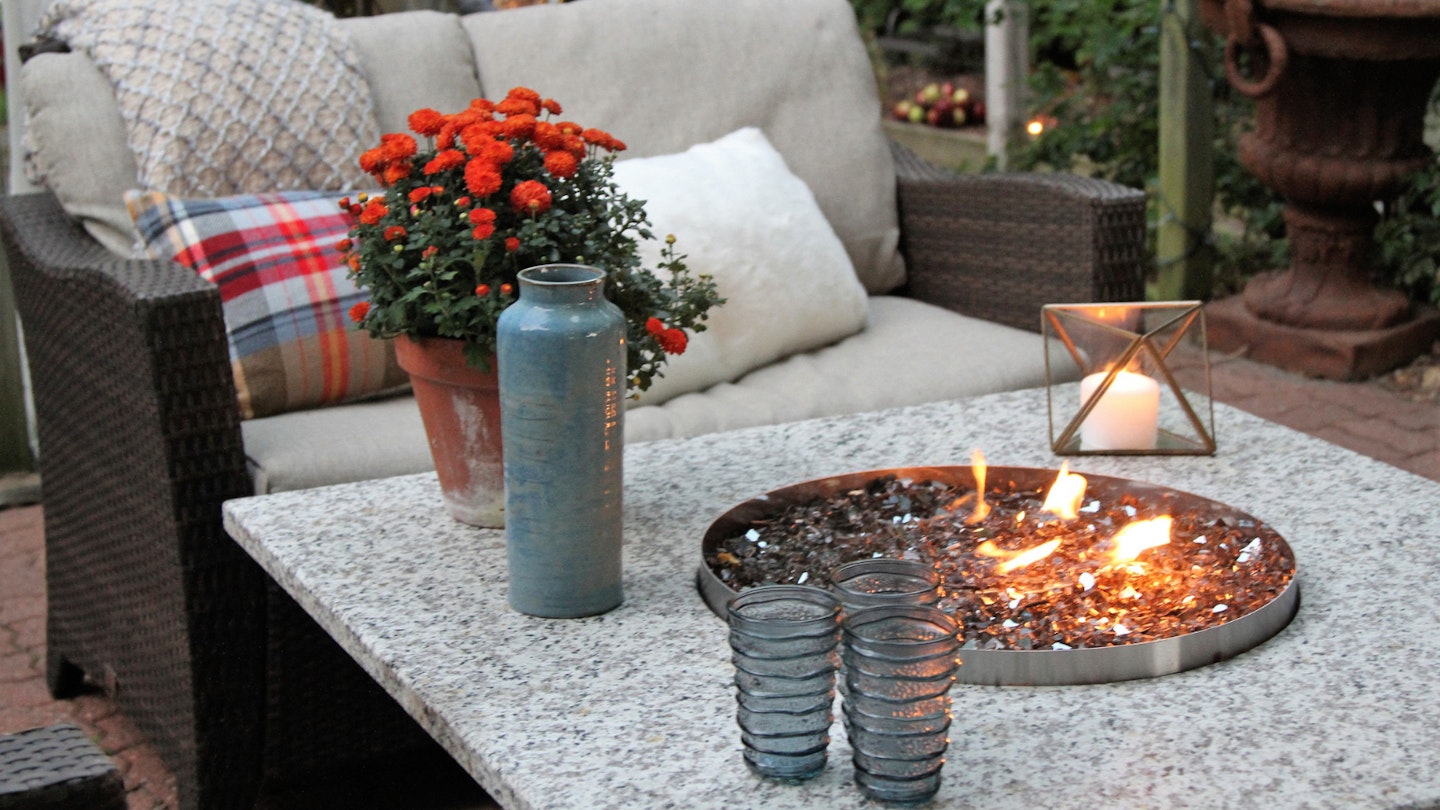 Don't be swayed by whether or not your desired gas or bioethanol table comes with ceramic logs or lava stones as standard as these can be bought separately. Just check if any product is fuel compatible. It's simple to swap the style of those supplied too. Standard ceramic logs are often a dull brown. However, stripy pale birch, rough charred oak, and smooth silvered driftwood will instantly bring a more modern look. Fire-resistant pebbles can also top any gas or bioethanol fire pit table. As can crush fire glass, which is available in many different colours.
Key features to look out for?
Glass wind guards are a must for gas and bioethanol burners as they prevent the fuel from being extinguished. They encourage it to burn efficiently, while also protecting those gathered around from sudden wind-caught flames. They form an essential barrier to prevent little fingers from getting too close and from debris being blown into the fire.
Most products include these in the total price but do check before ordering. Circular, square, or rectangular, they are made from sections of 5mm-thick heat-resistant glass connected by metal – usually aluminium – brackets. Raised on rubber feet that sit directly on the table, there will be a small gap to allow air to flow underneath and fan the flames.
Which fuel is best for a fire pit table?
Before you start shopping, decide which fuel type is most suitable for you and your garden.
Bottled gas or propane
This is the most popular. Clean-burning, efficient and easy to control, these canisters produce continuous flames that can be instantly dialled up or down as you prefer. Smokeless, there's no danger of annoying guests or neighbours. Most tables have space to discreetly house the cylinder, though some do require it to be positioned a few metres away and connected with a hose.
Do check the size of any housed gas canister that suits your needs as tables accommodate different sizes. As a rough guide, a 5kg canister will burn for around six hours, longer if flames are at a reduced height. Canisters can be bought from local gas centres, DIY stores and petrol stations. You'll need to buy a full bottle and then pay for a refill. Many people choose to buy two bottles so they have a spare for a quick changeover when the fuel runs out. Check too that the bottle is compatible with the burner's particular regulator before you buy.
Bioethanol fuels
Bioethanol fuels are made from plant-derived sugar and starch combined with alcohol, making them an inexpensive and environmentally friendly choice. Available in liquid or gel form, this fuel produces lively flames without any soot, ash, or toxic fumes.
The burn rate and height of the flames are controlled by widening or reducing the burner's aperture, using a long-handled hook tool. Although it can take up to 15 minutes for the fire to begin burning steadily, one litre of liquid fuel can last for three to four hours, making it very cost-effective.
It's also possible to buy separate bioethanol burners that you can fit into your own custom-built table. The only downside is that you can't refill a bioethanol burner while it's hot so, once the fuel is used up, the flames are finished for the night.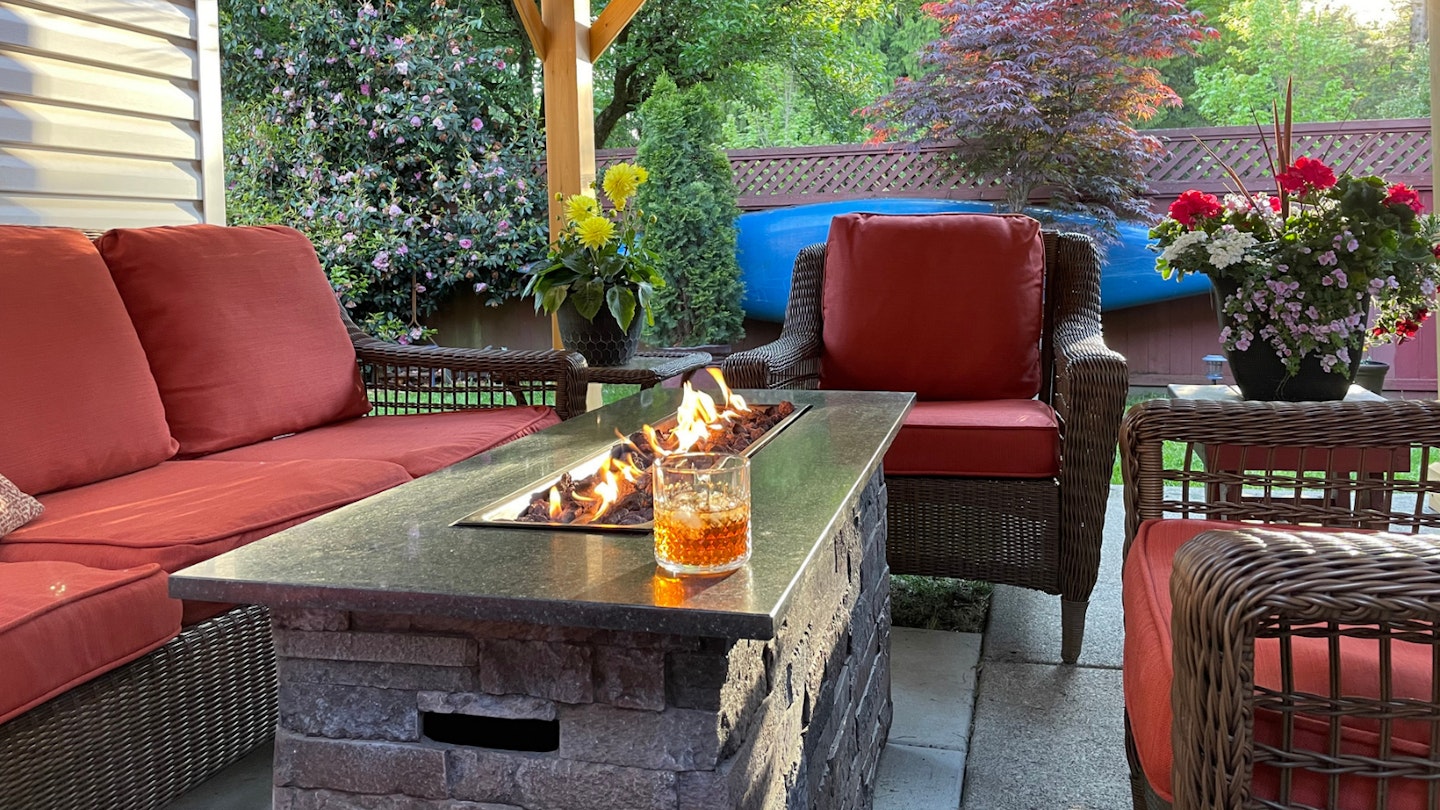 Logs and charcoal
Seasoned logs and charcoal are unrivalled for charm and atmosphere. But, the unmistakable crackle and aroma of wood are firmly offset by the hassle of smoke, flying sparks, and ash that has to be cleared up.
A cleaner and more efficient burn can be achieved by using quality seasoned and kiln-dried timber. But, there will always be one person with eyes watering from the smoke! It's hard to control the flame height and heat level too, but these tables are significantly cheaper.
What to read next
Description
Discover everything you need to know to make your outside space look fantastic, quickly and
Jill Morgan writes regularly for Modern Gardens, and loves everything to do with gardens, plants and outdoor living. Her long thin, town garden is the setting for many family and creative projects from bird feeding and veggie growing to den building and mini-pond dipping.