If you're on the hunt for the best barbecue or outdoor grill for your garden and one that you can take out and about on your travels — then the Weber Traveler could be a contender. In our opinion, you can't go wrong with a Weber BBQ, but as this one seemed to promise the luxury of portable cooking and enough space for family BBQs at home, it needed to be tried and tested to be believed.
While a tabletop barbecue is an obvious choice for those looking for a barbie to take out and about, the Weber Traveler, albeit a little large, is also designed for those who want tasty food away from home. We were keen to test it out to see just how 'portable' it really is, considering that its dimensions are similar to that of your full-size patio barbecue. We decided to take the Weber Traveler for a proper day out in our Volkswagen Grand California campervan, where it made up a crucial part of our camping kitchen.
On it, we cooked some juicy burger patties and toasted bread for bruschetta. These two are simple items for barbecuing, but cooking burger patties is something easily ruined by feeble and uneven burners.
Read on to find out just how it performed.
Pros
Smooth system for folding away
Powerful burner
Sturdy and well made
Large cooking area
Cons
Quite big for a travel BBQ
Testing the Weber Traveler Gas Barbecue
Portability
In theory, the Traveler is a portable barbecue for anyone, from casual picnickers to retirees with big, fancy Volkswagen Grand California campervans. But at over one metre wide and nearly 60 centimetres deep, it seems to be the portable barbecue for anyone who has a vehicle with a boot big enough to transport it. We transported it in a Volvo SUV and the Traveler fitted snuggly in its boot.
However, size is only half the story, because while the Weber Traveler is a similar dimension to most peoples' backyard grills, it also has a brilliant hydraulic mechanism for collapsing its stand. Put your foot on the foot stand at the base, pull a red lever that sits beneath the side table and the whole unit eases down gently on gas struts.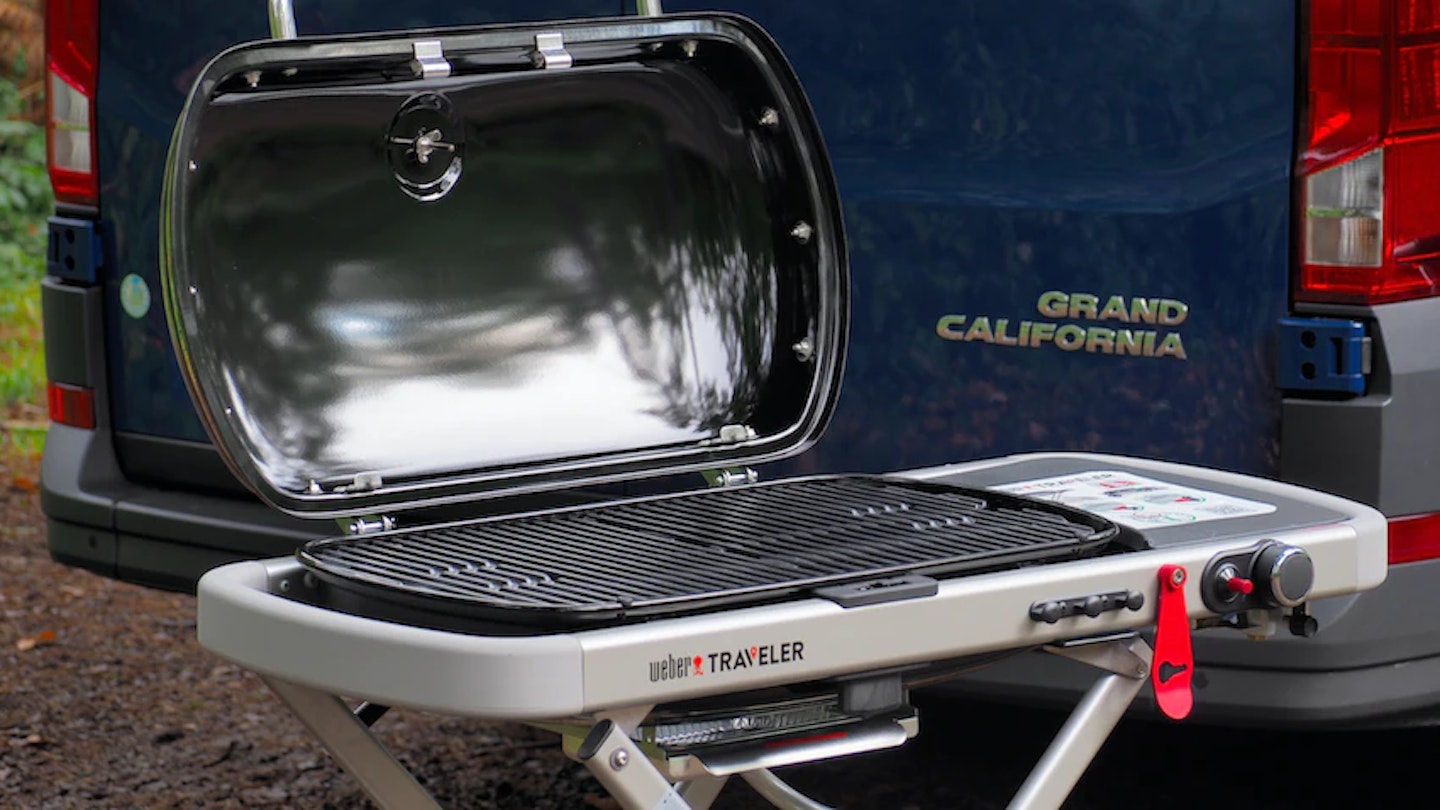 Once collapsed, there's a lock that engages automatically on the lid to prevent an open-lid disaster that would unfold if it didn't. There's a red tab that locks the legs shut, too. You can then lift up the barbecue and wheel it away.
As you can probably tell, the Traveler's cart is an integral part of it, like a tortoise's shell. While the cart makes this barbecue bigger than it would be without, it has the benefit of making it very easy to move around.
Features and usability
With an RRP of £490 the Traveler is quite an investment. But is it a wise one? In typical Weber fashion, the Traveler is very solid and well put together.
Parked up and set up, it looks the business. The lid has a temperature gauge, which is a very welcome addition, and beneath the grill plates, you find a single burner. That pair of grill plates are cast iron and are what contribute most noticeably to the Traveler's rather portly 28kg weight. But given how easy it is to wheel around, set up and collapse, and how solid it is, it's far more beneficial than if they were lighter.
Because it's a single burner there is just one dial. Just next to it are three plastic tool hooks. In terms of gas, because it's a travel barbecue, the Traveler uses the little screw-in butane/propane gas canisters. You can hook it up to a big gas bottle or campervan gas supply if you want but it needs a hose adaptor, which is sold separately and is quite expensive.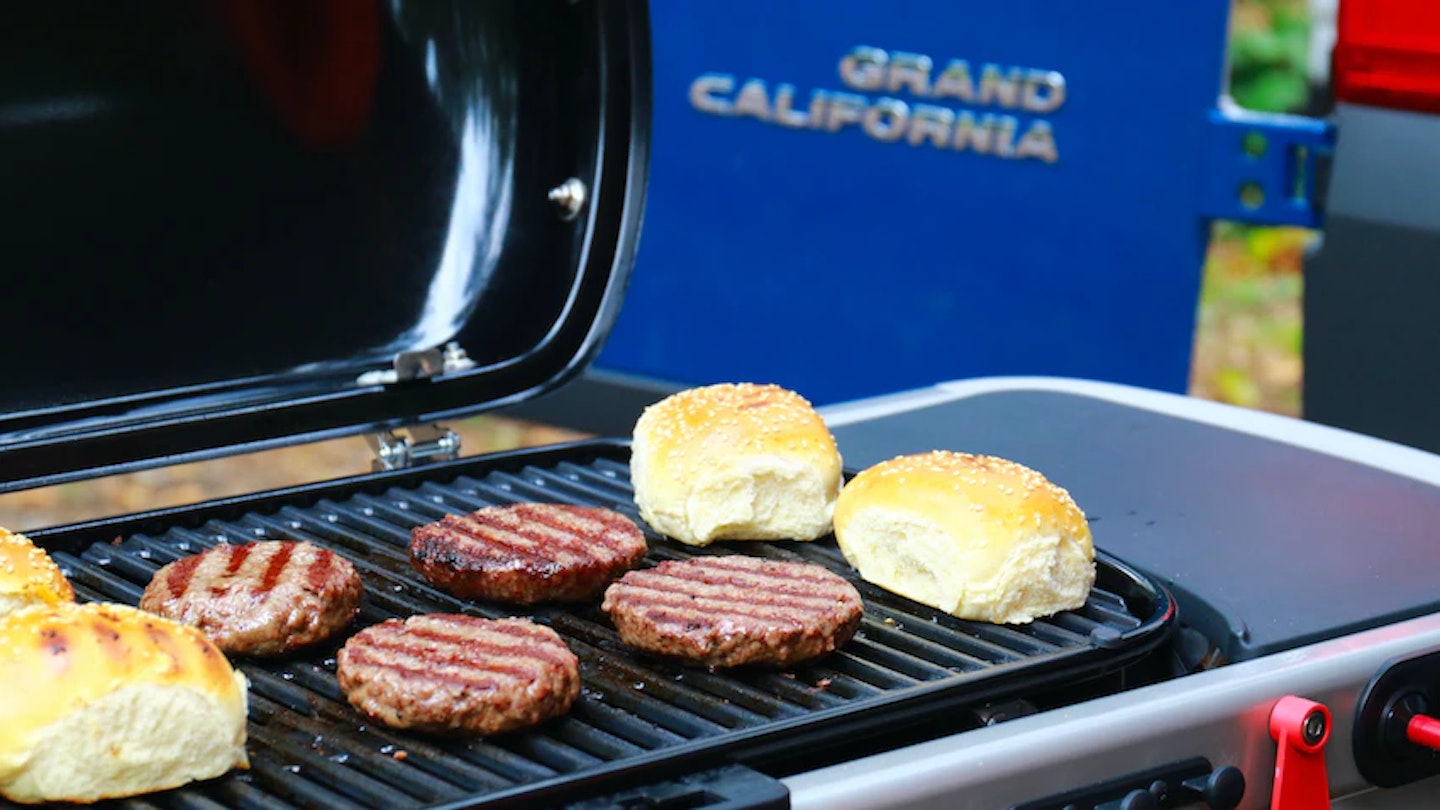 Because there's lots of power, the plates heat up within a few minutes and you're ready to start cooking. For this, there is ample space to cater for large groups. The cooking area is more than 2000 square centimetres, which dwarfed our catering for three – it's enough for at least a dozen medium-sized burger patties.
Crucially, it's all useable cooking space because the burner tube wraps around the whole grill.
As previously mentioned, the built-in temperature gauge on the lid is very useful, as is the infinitely adjustable control dial, both of which allow you to cook with more confidence. We didn't encounter issues with anything sticking to the grill plates either. Overall, it was a stress-free barbecuing experience that produced some excellent results.
No doubt the Traveler can be used for any style of grilling, from slower, low temperature cooking to steak searing. In terms of fuel use, we didn't get close to using a 445g gas canister. There was about a third left after cooking two courses.
Overall verdict: Is the Weber Traveler worth it?
If you own a hatchback or a saloon car and you intend to take it places, then no, it isn't, because it simply won't fit in the boot. You could squeeze it in by folding the seats down but then it hardly seems portable at that point. But if you own an estate car or family SUV or a campervan then you should seriously consider the Traveler, because it's a brilliant travel kitchen capable of being your home barbecue as well. It also works quite nicely if you're just after a gas barbecue you can fold down and pack away neatly in the shed or garage.
It's the inclusion of important features and performance that impressed us the most. There are no useless frills, just simple parts that work flawlessly and will last if you take care of them.
How does the Traveler stack up against competitors? Char Broil's All-Star 125 Gas portable barbecue is about the same price and has the same power output. With the stand, it also weighs about the same if a little lighter, but the cooking area is smaller (45cm diameter circular plate) and you have to remove the barbecue from the stand to move it because the stand doesn't fold away. The Weber Traveler is superior in our eyes.
What to read next:
Description
Discover everything you need to know to make your outside space look fantastic, quickly and