If you're on the hunt for an outdoor BBQ that can be transformed into a smoker, air fryer, and electric grill and one that you can take with you on your travels - then the Ninja Woodfire Electric BBQ & Smoker could be a contender for you to never look at a gas or charcoal BBQ in the same way ever again. Ninja has well and truly taken over the air fryer game, but their foray into the world of outdoor cooking is their most exciting yet. Better yet, the Ninja Woodfire Grill has over £150 off in the Black Friday sales.
Black Friday is over but there's still time to grab some last chance Black Friday deals on on Ninja, with up to 25% off products including air fryers, multi-cookers, knife blocks and pan sets. Plus Amazon, John Lewis, B&Q and Argos are all sharing the best garden and outdoor deals.
Electric and compact BBQs have been soaring in popularity for a while now, thanks to 'instant' low-cost disposable BBQs being proven to be incredibly bad for the environment and, ironically, hard to dispose of. Many who live in a flat but have a balcony have also switched to smaller, more compact versions of your normal gas or charcoal BBQ and electric is a much safer, landlord-friendly option.
Designed to allow users to enjoy authentic Woodfire flavours in any outdoor space using 100 per cent real wood-burning pellets, the innovative new Woodfire grill simply needs to be plugged in and is ready to go, with no need for charcoal, gas or flames. Read on to find out just how our writer, Hannah Mellin, got on putting it through its paces.
Ninja Woodfire grill overview
Pros
Minimal setup
Seven cooking functions
No charcoal, gas or flames
Sturdy and robust
Integrated smoker box burns natural wood pellets for real smoky flavours
Portable enough for camping
Weather-resistant - can cook in the rain
Cons
Grill plate and basket have to be hand washed
Too small for larger gatherings
Doesn't come with cover - have to buy it separately
Due to its popularity, the Ninja Woodfire Electric BBQ is often sold out, if that's the case you can try the following retailers:
Key features
• No need for charcoal or gas, just plug in and go
• Grill, smoke, air fry and so much more with 100 per cent real Woodfire flavours
• Smoker function
• Removable handles
• Cover and stand available to buy
• Easy-to-clean grill and air fryer basket
• Seven customisable cooking functions including Air Fry, Roast, Bake, Reheat and Dehydrate
Rating: 4.5/5
Testing the Ninja Woodfire Electric BBQ Grill & Smoker
Usability
I put the Ninja Woodfire to the test over periods of good weather (and some wet and cloudy weather, too) and a variety of great food. It was tested in an outdoor environment, including my garden and a campsite.
Something that cannot be stressed enough is that the Ninja Woodfire is an outdoor-only appliance. It is not an indoor appliance. There have been loads of searches about whether you could use the Woodfire inside as long as you don't use the smoker function but it is simply, not true. Don't risk it. The appliance gets incredibly hot and still produces smoke throughout the cooking process and when you open the lid, even if you're just using the grill function.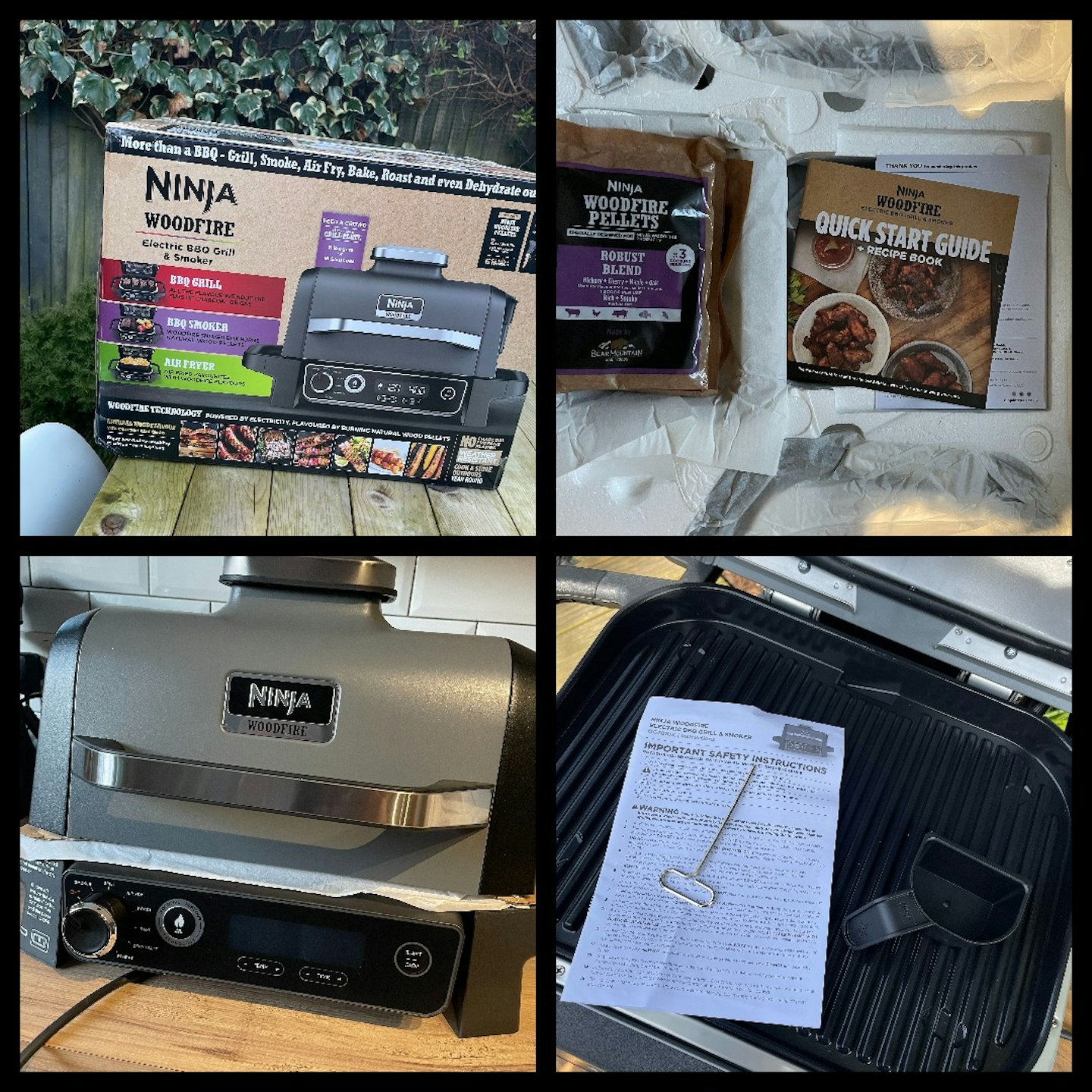 The Ninja Woodfire came in a huge, heavy box but was surprisingly simple to set up and get to grips with. All you need to do is attach the two handles, which can be done in a jiffy. The only fiddly bit was turning on the button underneath the appliance that makes the magic happen. It's hard to reach and not very well-lit, but once you do it once you get the hang of it pretty quickly. You need to press the 'test' button on the plug to turn it on properly after that. The instruction booklet is one of the most simple I've ever come across and contains tonnes of handy images to refer to if you get stuck.
Here's what you get in the box:
• 1x Grill Plate
• 1 x Cook and Crisp Basket
• 1 x Removable Woodfire Smoke Box
• 1x Grease Tray
• 1 x Pellet Scoop
• 1 x Sample Bag Ninja Woodfire Pellets (Robust)
• 1 x Sample Bag Ninja Woodfire Pellets (All-Purpose)
Display-wise, the Ninja comprises of a knob that displays the seven cooking functions, a digital display, a button to infuse the woodfire flavour, a start/stop button and then buttons to adjust the time and the heat.
Portability
The Ninja Woodfire towers over its rivals, firstly in size and then in the amount it delivers. In comparison to other portable BBQs, like the Weber Traveller, the Ninja is way more sturdy and despite being compact, I don't think you'll catch many people taking it down their local picnic spot or beach (mainly because you need to have electric), but it is heavy and robust, and for good reason, given all the cooking it can do. But if you're after a less messy solution to take camping, the Ninja Woodfire may just be your saving grace and will tempt you away from portable gas stoves or smaller charcoal BBQs for good.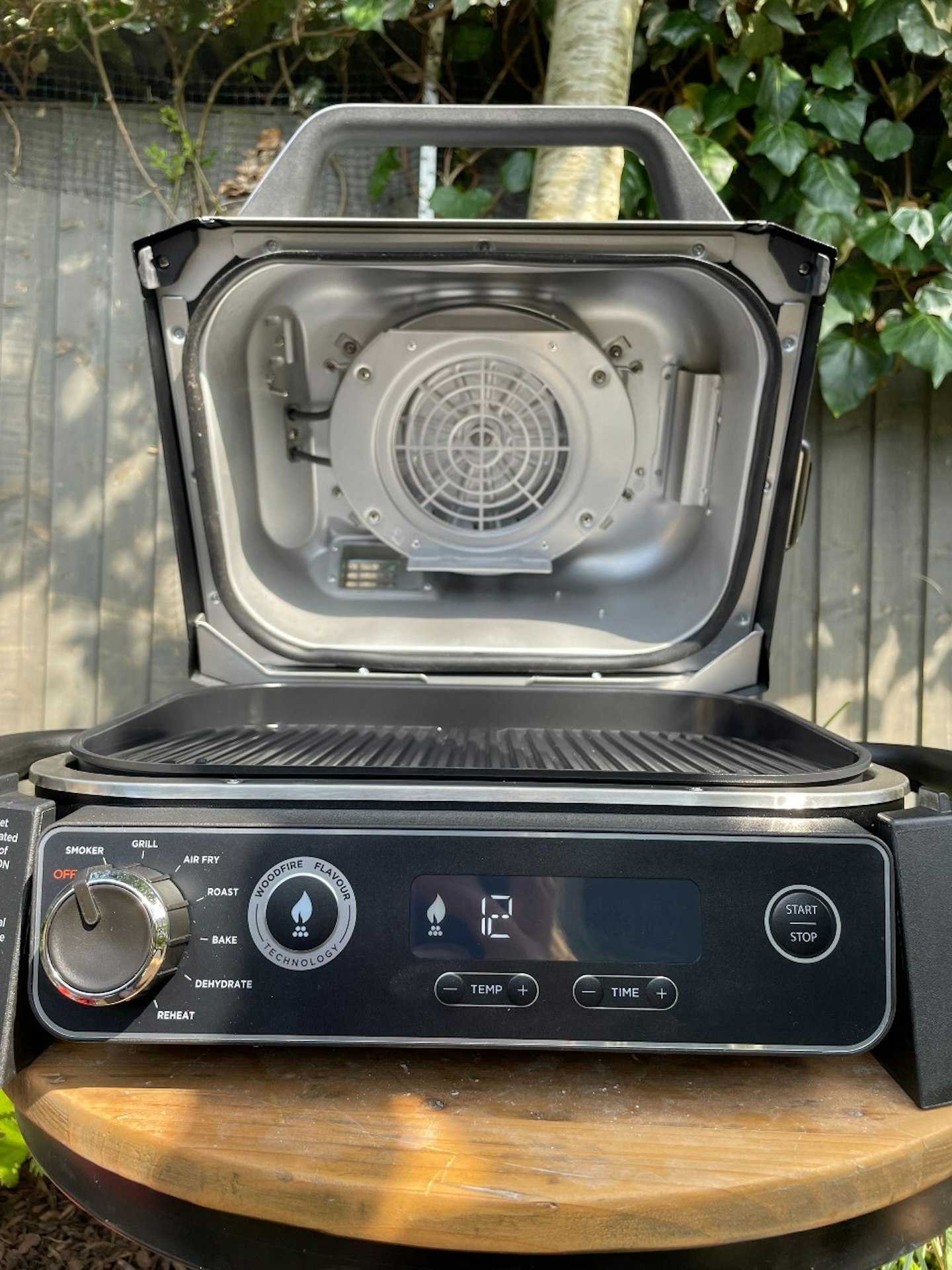 The Ninja Woodfire body itself is big and bulky, but with some strength, is easy to move around. The handles are super easy to attach and then remove again and you will be able to take it camping or anywhere you like if you've got room in your car. I definitely think it is worth investing in a cover for your Ninja Woodfire, we've found one on Amazon for £16.99 that is waterproof, dustproof and has loads of space to ensure your grill is protected.
Features
With seven different functions under one lid - Grill, Smoke, Air Fry, Roast, Bake, Reheat and Dehydrate - the outdoor cooking possibilities are endless. Despite looking and feeling like a simple outdoor grill, it does so much more, and the air fryer function is especially exciting as they have been the most sought-after appliance of the past few years.
Ninja's unique Woodfire technology also tenderises large cuts of meat, enabling users to experiment with different ingredients and flavours. Grill everything from BBQ classics like burgers, sausages and halloumi kebabs, to tender beef brisket, sticky ribs, juicy steaks, spatchcock chicken, a whole salmon fillet, chargrilled vegetables and so much more.
The Ninja even comes with a handy cookbook, giving you all the inspiration you need to get the most out of your Ninja Woodfire.
Here are the functions we've tested out:
BBQ Grill
The grill function allows you to grill with the lid open for that authentic BBQ experience, or no-hassle lid-shut cooking – perfect for cooking thick cuts of meat or frozen food to perfection. The grill function is great for burgers, sausages, steaks and chargrilled vegetables. I found that the Ninja gets incredibly hot on the highest setting, so I cooked my burgers and sausages on the medium setting to avoid the incredibly authentic too burnt BBQ finish.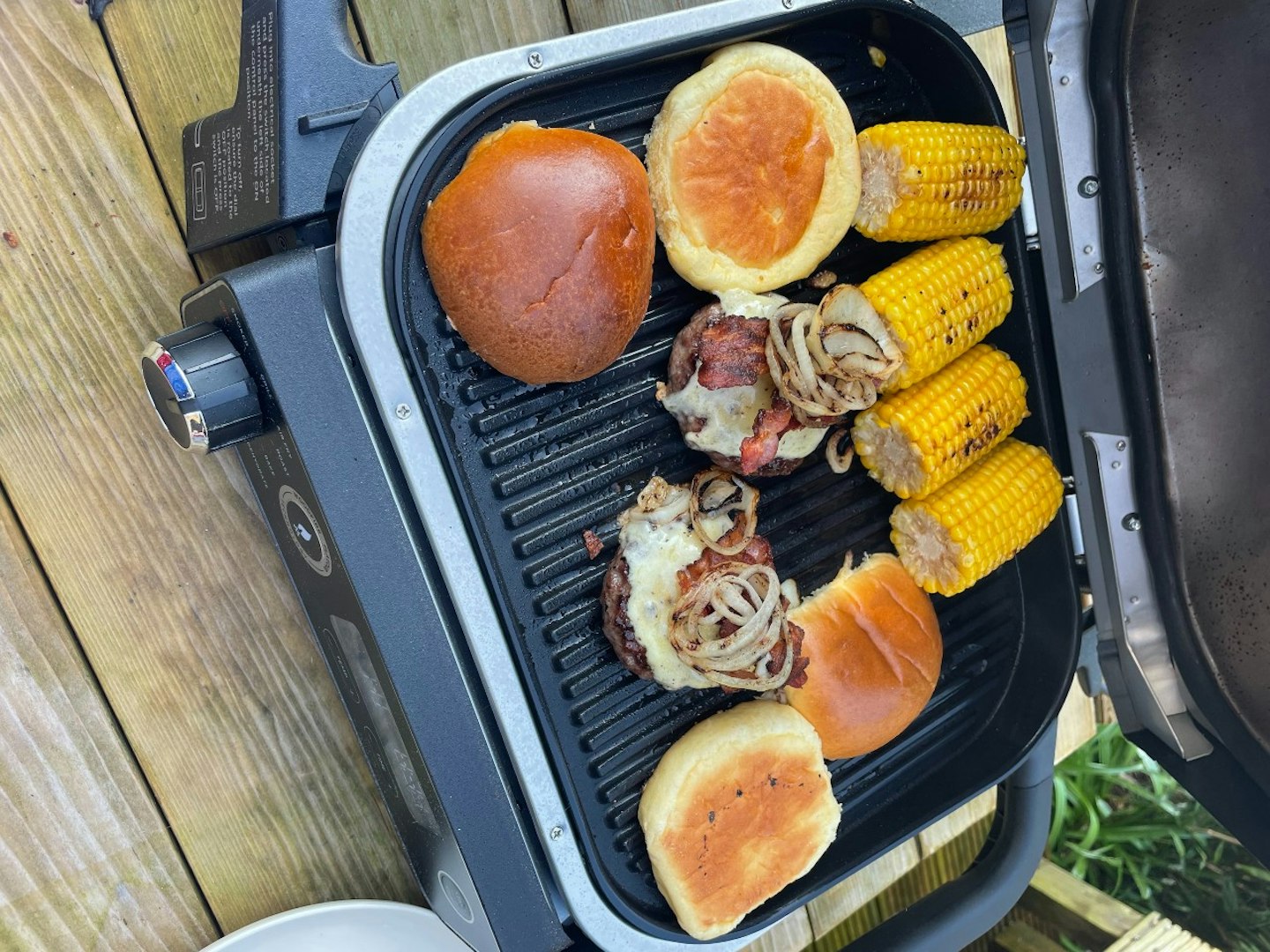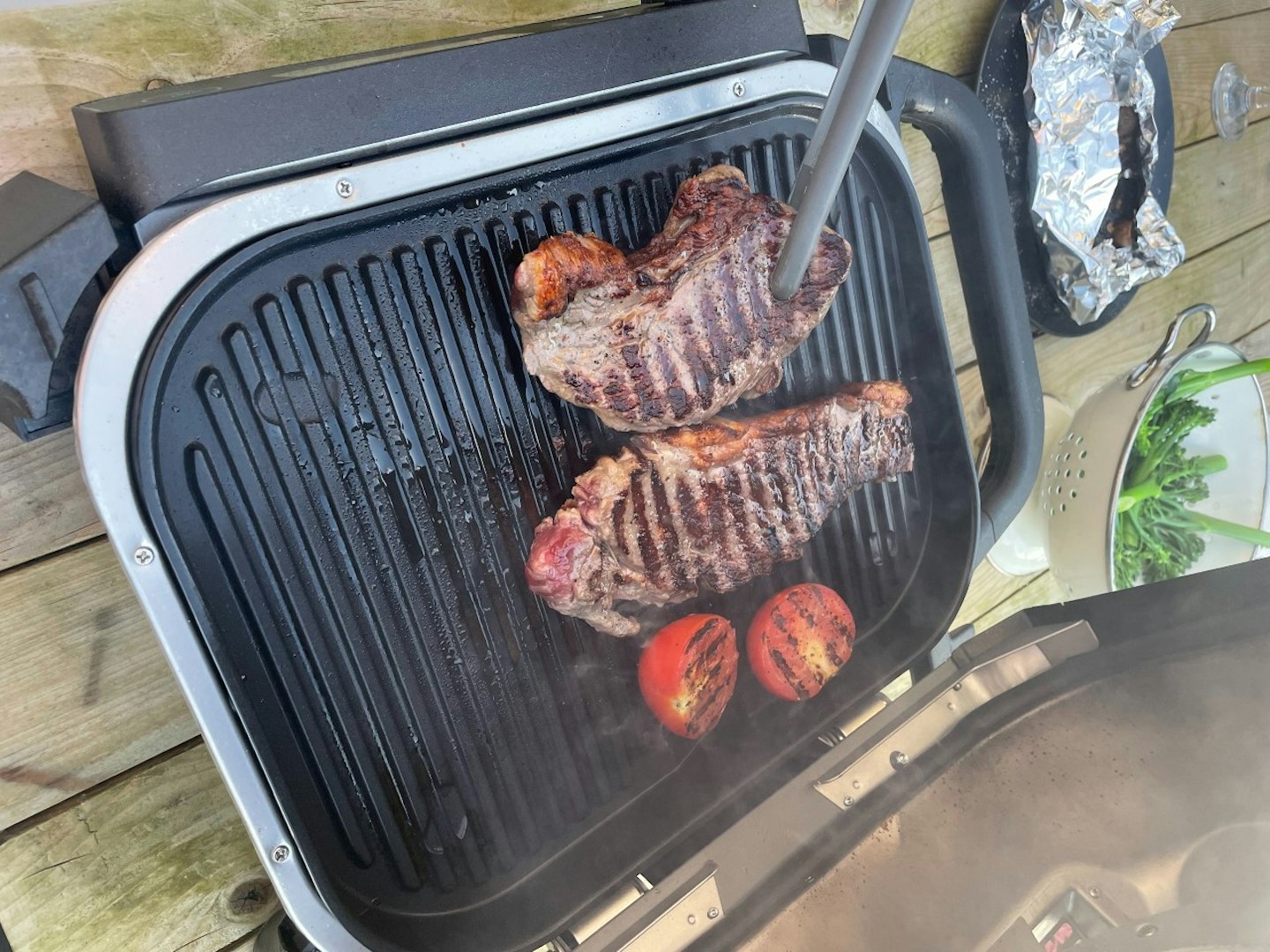 Allow the Ninja to preheat, adjust the temperature (choose low, medium or high) and adjust the cooking time and you're ready to go. You can close the top or have it open, it is completely up to you, but things are much quicker with the lid down. I love the grill finish on perfectly cooked succulent steaks, something that is very tricky to achieve using a charcoal or gas BBQ.
BBQ Smoker
With an integrated smoke box that uses natural wood pellets and convection, the Ninja Woodfire Electric BBQ Grill & Smoker evenly circulates heat and smoke around food, ensuring rich, fully developed woodfire flavours.
The Smoker function has got everyone talking and is definitely a top selling point on this electric outdoor grill. If you told me you could achieve delicious, smoky flavours on an electric BBQ, I naively just wouldn't believe you. My first attempt at using the Smoker function on the Ninja was at Easter when I slow-smoked a lamb shoulder for four hours. I dusted my joint of lamb with rosemary, popped it on the grill, loaded up the smoke box with wood pellets and let the Smoker do its magic. I've smoked meat on more traditional Smokers before and honestly, this tasted exactly the same, fell off the bone, took less time to cook and was way easier to clean up afterwards.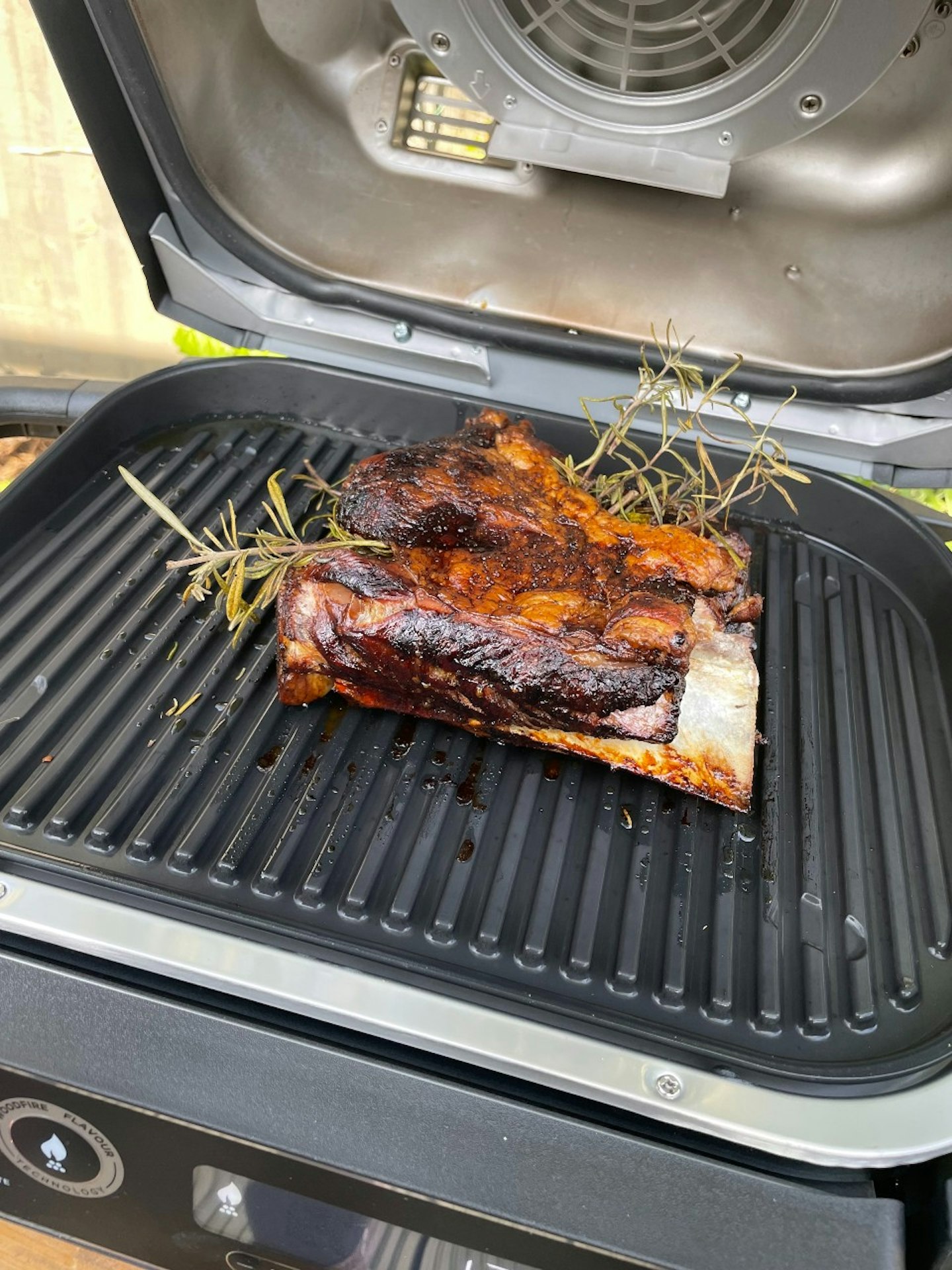 A few tips:
• For optimal smoke flavour, minimise the time the lid is open when adding or flipping food.
• Do not use any oils or non-stick sprays when smoking because the smoke will not adhere to the food as well.
• Smaller food loads such as vegetables and minced meat absorb more smoke.
• Timing is completely up to you. The Ninja is powerful, so it is worth weighing the meat beforehand to see how long it will need.
Outdoor Air Fryer
The option to use your Ninja Woodfire as an air fryer takes it from an incredible BBQ Smoker and Grill to an incredible outdoor oven. Not everyone wants to BBQ every day, and the novelty of cooking a bowl of chips outside with ease excites me, especially in the summer months or on camping trips. Who wants to turn their oven on in a heatwave?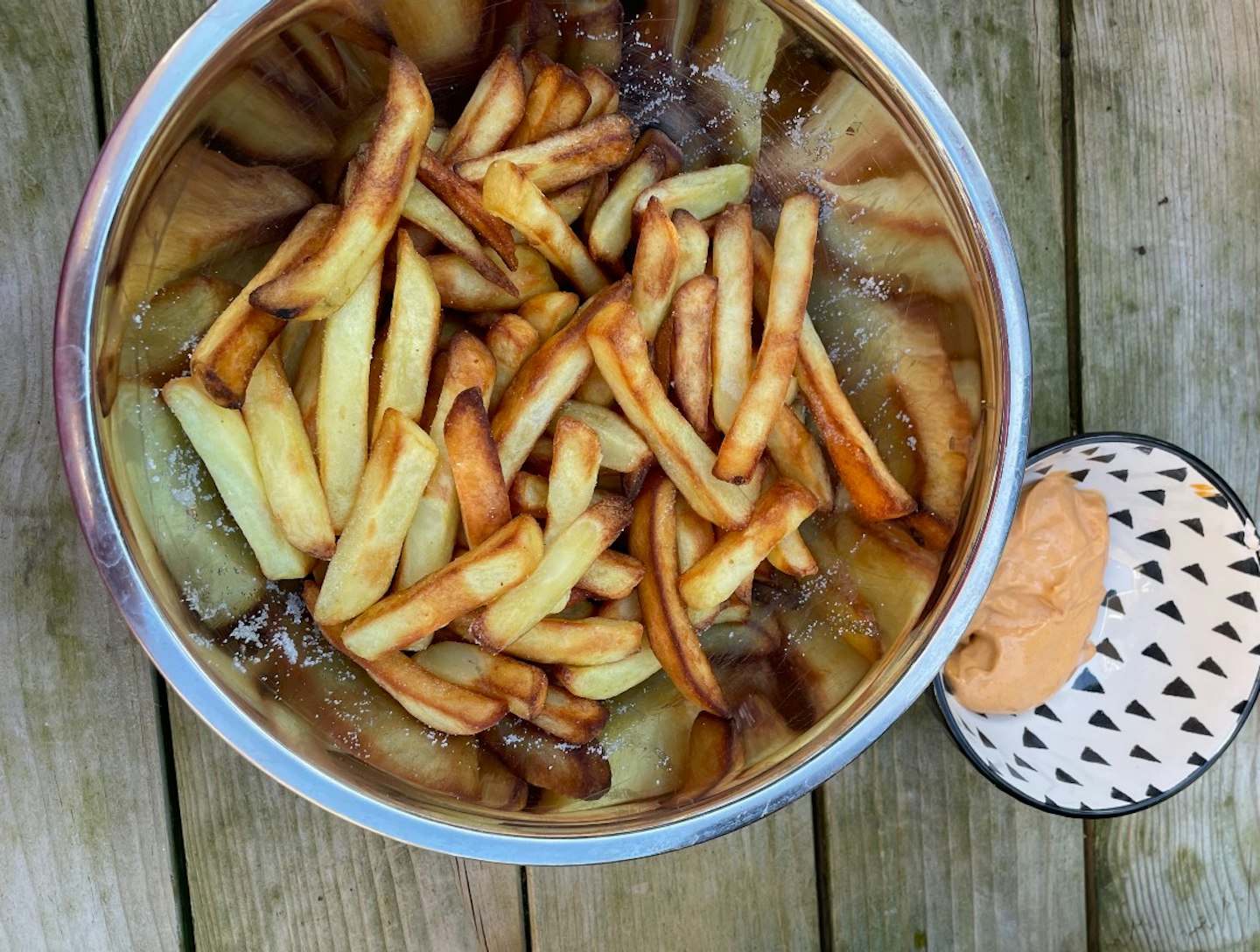 Air fryers are Ninja's bread and butter, so it is no surprise that the function is super simple to use every single time, whether you're frying chips, wedges, chicken wings or onion rings.
Roasting function
All keen BBQ fans know that roasting a joint of meat on the BBQ is a magical experience. If you don't feel like adding the woodfire smoke flavours to your meat, you can still use the roast function to cook large cuts of meats, such as a ham or a delicious chunk of beef. I chose to roast a Cajun spiced spatchcock chicken and it took under one hour on the highest setting. Honestly, please don't underestimate how quickly this appliance cooks your food.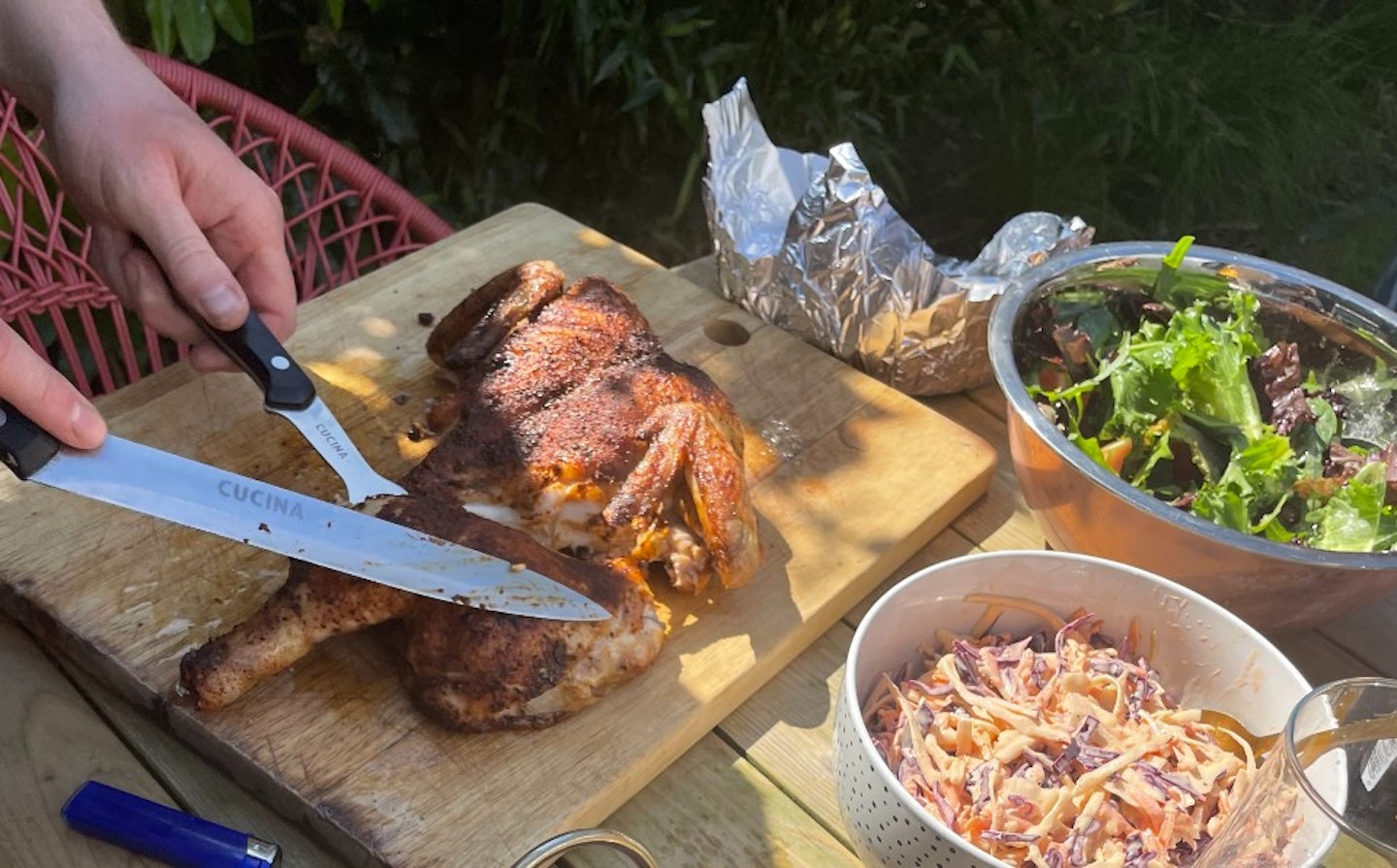 Bake function
Yep, you read that right, you can cook brownies, scones and pies in your garden!
Price
The Ninja Woodfire retails at £349, which is a similar price to what you would pay for a mid-range gas BBQ. Hybrid BBQs - also known as dual fuel - are the closest that you could get to have as many functions as the Ninja Woodfire (hybrids have gas and charcoal) and if you're looking to splurge on a smoker grill, you're looking at a price of £200 at a minimum.
The number of functions and the convenience of using electricity really do sell it for me, but the capacity of the Ninja Woodfire may let it down for some. It does cook up a feast, but if you're having a large family BBQ, you may struggle to fit all the food in. You also have to cook in stages: Cook the meat, add the veg and then air fry some potatoes afterwards. However, if you're cooking for a family of four whilst camping, for example, the fact you can cook meat, vegetables and potatoes on the same appliance is a game-changer.
You also need to bear in mind the amount of money you may need to spend once you've bought it, the wood pellets cost £30 for two 2lbs/ 900g bags, which should last up to 40 cooking sessions. Since it can be set up on any table, there's no requirement to purchase the collapsible grill stand and cover, but for those who want it, it's a further £150.
Overall verdict: Is the Ninja Woodfire worth it?
Not only is this appliance a game changer if you only have a balcony or tiny patio, but it offers easy, mess-free outdoor cooking no matter where you plan to cook – you just need access to power. Unlike hybrid BBQs or a small tabletop BBQ, this isn't just a BBQ/grill alternative; it offers multiple cooking functions. It can air fry, bake, roast, and it's a smoker, too.
I love the clever Smoker function, which features the self-igniting smoke box where you put the pellets is just like cooking over a wood or charcoal fire - without the danger and the mess. If you're a fan of smoked meats and cook them often like me, I really do think it is worth splashing the cash on this appliance. I personally don't own a charcoal BBQ anymore, and I don't think I'm going to invest in one since owning a Ninja either - which in my opinion is a huge compliment to the new member of the Ninja family. I know so many people who have a Ninja appliance, and the familiarity of the feel and functions is another plus point to me. Despite looking intimidating, using the Ninja Woodfire really is a breeze, so would be a great introduction to the BBQ world, as well as a safer option, too.
I have shocked myself at how often I've used the Ninja Woodfire, telling my partner not to turn the oven on because "We can just cook it on the Woodfire instead."
Ninja Woodfire grill accessories
Ninja Woodfire cover
Description
This handy cover will keep your Ninja Woodfire safe from the elements. Plus, it makes it a lot
Ninja stand and cover bundle
Description
This foldable grill stand is custom-made for the Ninja Woodfire Electric BBQ Grill. Designed to
What to read next:
Description
Discover everything you need to know to make your outside space look fantastic, quickly and
Hannah Mellin is a Homes & Garden Product Writer for Modern Gardens. She has been working in the Journalism industry for over a decade and has written for an array of brands including John Lewis, Daily Mirror and Grazia. When she's not writing, researching or testing products, she's rennovating her Victorian terrace and chilling in the garden with her sausage dog Waffle.