Just like garden accessories, a fresh lick of paint can be a relatively instant and inexpensive way of transforming your garden. Not only that but there are some superb products that provide long-term protection and can withstand all weather for years to come. If you're reviving brickwork or adding a touch of personality to your patio - Modern Gardens has got you covered.
Using the right paint, you can improve grubby, ugly or boring walls to transform the look of your whole garden. But who says walls have to be just one colour? Create a feature wall by marking out and masking off each section of your design, making sure each colour is dry before doing the next.
You could recreate a white and blue exterior inspired by your Greek holiday or take inspiration from summery ice cream hues. Whether it's giddy green, fuchsia pink or chalky blue, you can use dramatic and pleasing tones to soften hardscaping and help to make a space feel bigger. Plus, you'll be bang on trend if you accessorise with colourful garden décor.
Best outdoor wall paint at a glance:
• Editor's choice: Ronseal Garden Paint Purple Berry, 2.5L
• Best colour masonry paint: Farrow and Ball Exterior Masonry Cook's Blue, 5L
• Best smooth masonry paint: Armstead Trade Smooth Masonry, 5L
• Best masonry paint for extreme weather: Dulux Trade Weathershield Maximum Exposure Smooth Masonry Paint, 5L
How you design your garden wall is up to you, but with the best outdoor wall paint, you know it'll last. Jump to the FAQs at the end of this article for guidance on what to look for and how to prepare masonry and brickwork for paint. In addition, we'll round up a few more common paint and painting accessories queries, such as how to dispose of paint tins.
Best outdoor wall paint
Editor's choice
Description
For a rainbow of bold shades, choose Ronseal Garden Paint. The purple berry colour is bold,
Pros
Enormous range of modern colours
Waterproof outdoor surfaces
Versatile
Good price
Best colour masonry paint
Description
A masonry wall painted bright blue will make your plants stand out. Farrow and Ball Exterior
Pros
Lasts up to 15 years
High quality
Wonderfully evocative range of colours
Best smooth masonry paint
Description
Armstead Trade Smooth Masonry can be thinned with water and applied by brush, roller, airless
Pros
Versatile methods of application
Long-lasting protection for masonry
Buy in large quantities
Cons
Need to apply more than one coat
Best masonry paint for extreme weather
Description
For a modern, naturally crisp look, this Dulux Trade Weathershield Maximum Exposure Smooth Masonry
Pros
Excellent durability
Suitable for harsh environments
Excellent opacity and adhesion
Most bold exterior paint
Description
Get a touch of the Med with the wonderfully named Carnival Headdress by Andrew Martin. This satin
Pros
Versatile - can be used inside and out
Vibrant colour
Can be used on walls, woodwork, metalwork
Cons
Contains VOCs which can be harmful to health - wear a mask when applying
Best traditional outdoor paint
Description
Add warmth with this rich apricot shade. Timeless Look Little Greene Limewash in Conche is
Pros
An enormous range of colours and finishes available
Available in lots of types of exterior paint
Cons
You need to apply four coats to get good coverage
Best value masonry paint
Description
For excellent covering power at a budget price, Leyland 303139 Granocryl Smooth Masonry Paint is a
Pros
Hardwearing
Moisture-resistant
Breathable
Water-based
Best masonry paint for a chalky finish
Description
Get pretty in pink with this beautiful chalky finish masonry paint. Perfect Masonry Paint
Pros
On-trend colour
Huge range of colours and finishes
Cons
Colour may come out differently depending on the surface
Best outdoor paint for a base coat
Description
It is generally recommended to use a primer for extra durability. But with this Sandtex Ultra
Pros
Value for money
Weatherproof
Excellent coverage
What to look for in the best outdoor wall paint
Use colour to put a spring in your step and protect your exterior surfaces from the harsh British weather with the best weather-resistant paint. But before we get into the products, there are a few factors that you need to know before you buy.
First, how much paint you'll need depends on the size of the area you're painting. You could require 2.5 litres or more. We recommend doing at least two coats of paint for longevity, so factor a second or third coat in. Coverage is listed in the product specification, stating how many square metres the quantity of paint will cover.
If you're on a budget, you need to scour for the best deals and figure out how much you can spare - or how much you're willing to spend. Good quality paint is not cheap. You should also pay attention to the guidance on how long the paint takes to dry and how well it covers - meaning how opaque or transparent the pigment is. Quality paint will not leave bristles behind like other cheaper versions, brands like Armstead, Dulux and Farrow and Ball are reliable and effective.
Regardless of whether you're outdoor surface, there are some common features to look for:
• Dirt and stain resistant
• Washable exterior paint - such as a gloss that you'd use on your window sills
• Algae and mould-resistant
• Fade-resistant
• Anti-scuff
• Breathable - so that moisture is expelled through brickwork
• Waterproof or water repellent
• Sun protecting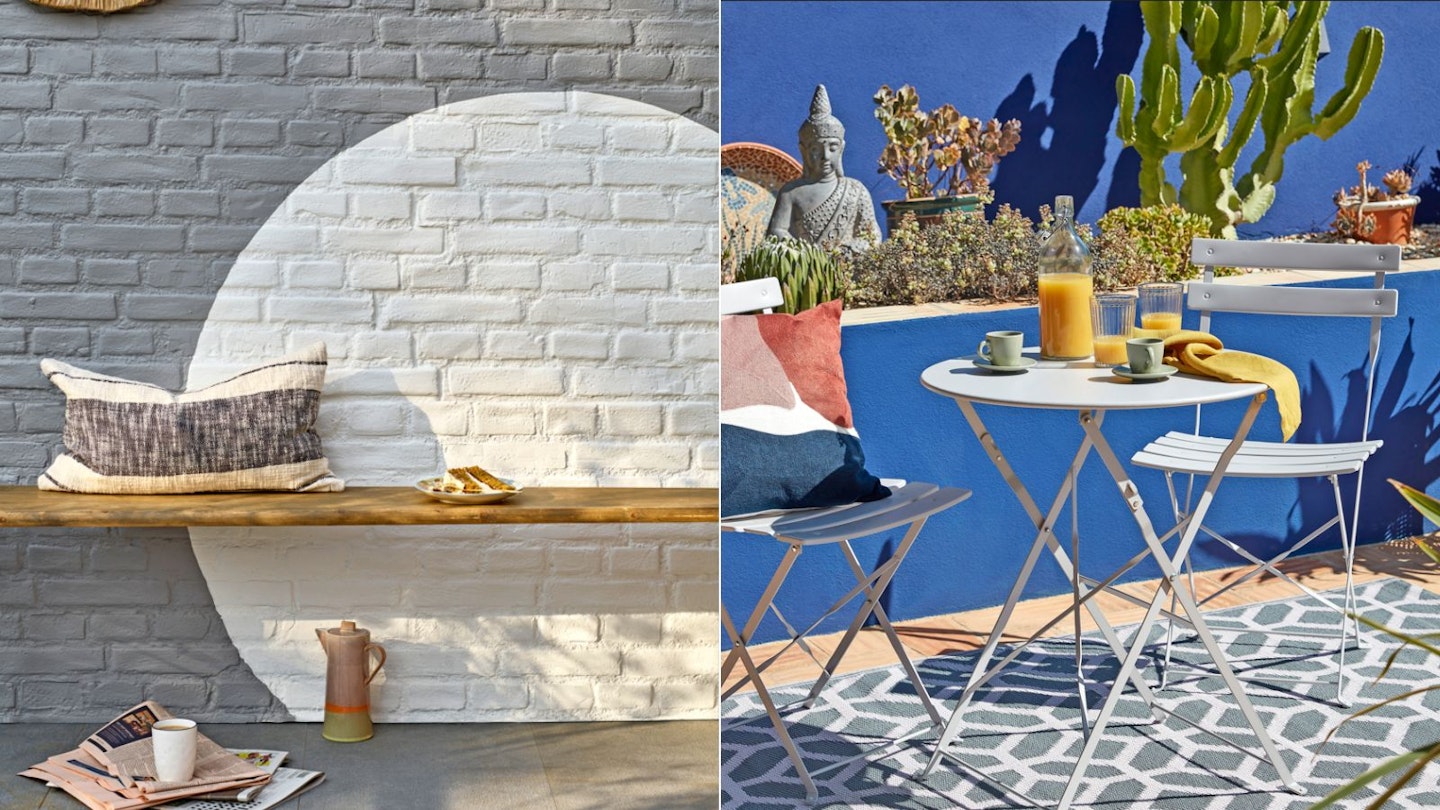 FAQs: Best outdoor wall paint
What are the different types of exterior paint?
There are three main types of exterior paint for use on wood, masonry and metal.
Wood paint, stain, varnish and oil can be used to protect wooden sheds, decking, fences, garden furniture and other wooden structures. Exterior wood paint, such as fence paint, will give the surface an opaque colour - there's an enormous range of shades to choose from and the paint is designed to be resistant to blistering and cracking. In addition, the paint will protect the wood from absorbing water. Exterior wood stain lets the grain of the wood show through while enriching the colour. A wood stain soaks into the wood and protects against the elements. An exterior wood oil can nourish wood that's lost its natural oils through exposure to harsh weather. Wood varnish enhances the full grain of the wood and provides a high level of protection.
Exterior masonry paint is suitable for all brick and stone surfaces, including pebbledash, cement, concrete, stone and stucco. Masonry paint protects and decorates exterior walls, such as the outside of your house, garden walls and garages. It's available in an enormous range of colours and in a smooth or textured finish.
Exterior metal paint offers weather protection and comes in a quick-drying water-based formula as well as traditional solvent-based paints. Metal paint provides weather protection for railings, gates, garden furniture, drainpipes and garden storage. You need to know what type of metal you are painting because there are products that are specifically designed for non-rusting metal surfaces such as aluminium, galvanised steel, copper and brass. There are all-in-one galvanised metal paints that have a built-in topcoat and don't need a primer. Also, there is paint that can be used on metal surfaces that rust. You will need to remove the rust before applying and you may need to apply a primer.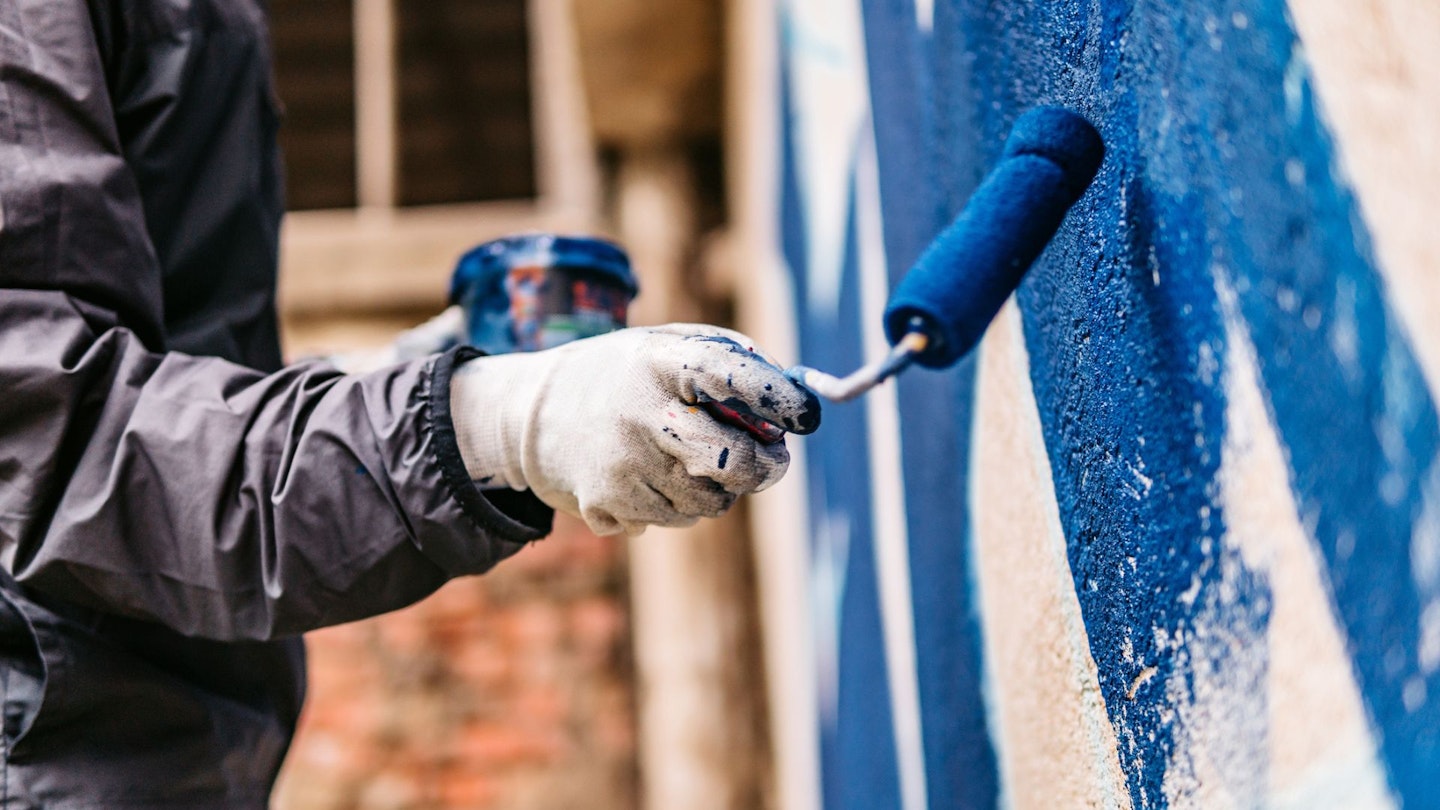 What are the different types of exterior paint finish?
Matte finish results in a flat, non-reflective finish that can help disguise uneven surfaces.
Satin finish offers a slight sheen. It's also known as a silk finish.
Gloss gives a highly reflective sheen and the most durable surface. It's a good option for doors that get frequent use as it is less prone to scuffing.
A smooth finish is exclusive to masonry paint and has a creamy consistency that makes it easy to apply.
A masonry paint with a textured finish provides hard-wearing coverage on uneven surfaces.
A hammered effect finish is only available for metal paints and can make a surface look distressed.
What paint preparation tools and accessories do I need?
No matter what you are painting outdoors, there are some fundamental points to consider, as Modern Gardens writer Jules Barton-Breck advises:
"The key to success is preparation so aim to spend just as much time prepping the surface as you do painting it. Check the weather forecast too, as for big makeovers such as walls and structures, you need a couple of dry and sunny, but not too hot, days to get it done. Stock up on the right tools as one brush doesn't fit all, and make sure you buy the appropriate paint for the surface. After that, it's time to let your imagination run free."
There are a few handy brushes, rollers, and cleaning and filling products that it's useful to have on standby in the shed for when a weekend project crops up.
Finally, having a protective kit will keep you and your clothes clean. Wear overalls, a mask, gloves and goggles and put a dust sheet down to protect pathways and decking. And, of course, a ladder and steps are a must-have for any high-wall painting - just remember to take care and be safe.
How do I paint masonry and brickwork?
Once you've prepped your masonry or brickwork, cover windowsills, doors and taps or electric sockets with plastic sheeting or masking tape, then lay heavy-duty dust sheets around the base of the walls.
If the walls are rendered, apply a watered-down coat of the masonry paint, approximately 10 parts paint to one part water, as a primer.
Once fully dry you can get painting. You should paint from top to bottom and work from right to left or left to right.
Start by painting around the edges of the walls and frames using a masonry brush. Then for speedy results, use a long pile roller with an extension pole. Buy two sleeves, one for the primer and one for the paint.
How do I dispose of my paint tins?
Paint tins cannot go into household waste, but you can take them to a recycling centre. Make sure any paint residue that's left in the tin is absolutely dry. If there's a little bit left at the bottom you can harden it with some cat litter or sand. Recycling centres will not accept liquid paint. Metal paint tins will be sent for recycling and plastic tins (which cannot be recycled) will be disposed of responsibly.
What to read next:
Cottagecore garden ideas for a self-sufficient outdoor space
Description
Discover everything you need to know to make your outside space look fantastic, quickly and