This issue is all about being able to enjoy your summer garden more! FREE Basil Lemonade seeds come with each issue (UK Mainland only). Find 10 fast makeovers for outdoor dining, blooms that soothe and de-stress and how to grow your own salad bar. Plus, simple makes with succulents and how to grow lemons on your patio.
Learn how to Barbecue like a boss! Try these genius grilling tricks for sizzling garden feasts this summer:
STATE-OF-THE-ART SAUSAGES To get the juiciest sausages, poach them in stock for 10 minutes before finishing them off to a sizzling golden brown on the barbecue.
SENSATIONAL STEAK Choose steaks that are rippled with fat. The fat makes them juicier and tastier and is good at absorbing the smoky barbecue flavours. Rest your steaks on a warmed plate on top of knob of butter – the meat juices will mingle to create a tasty sauce.
SUCCULENT SWEETCORN Keep corn on the cob juicy by removing the husks and silk (the outer wrapping) then soaking the cobs in salted water for 15 minutes before you grill.
FOOLPROOF FISH To stop fish skin from sticking to the grill, cut thin rounds of lemon, place on the grill and lay the fish on top.
HERBY VEGGIES If you've got a charcoal grill, put a few sprigs of garden herbs on top of the coals to infuse veggies with scent and flavour. Woodier herbs such as thyme and rosemary are best.
NOVEL GNOCCHI For the easiest, tastiest treat to wow garden guests, blanch gnocchi in boiling water for two minutes. Drain, pat dry, thread onto skewers and drizzle with herby sunflower oil before grilling until golden and crispy.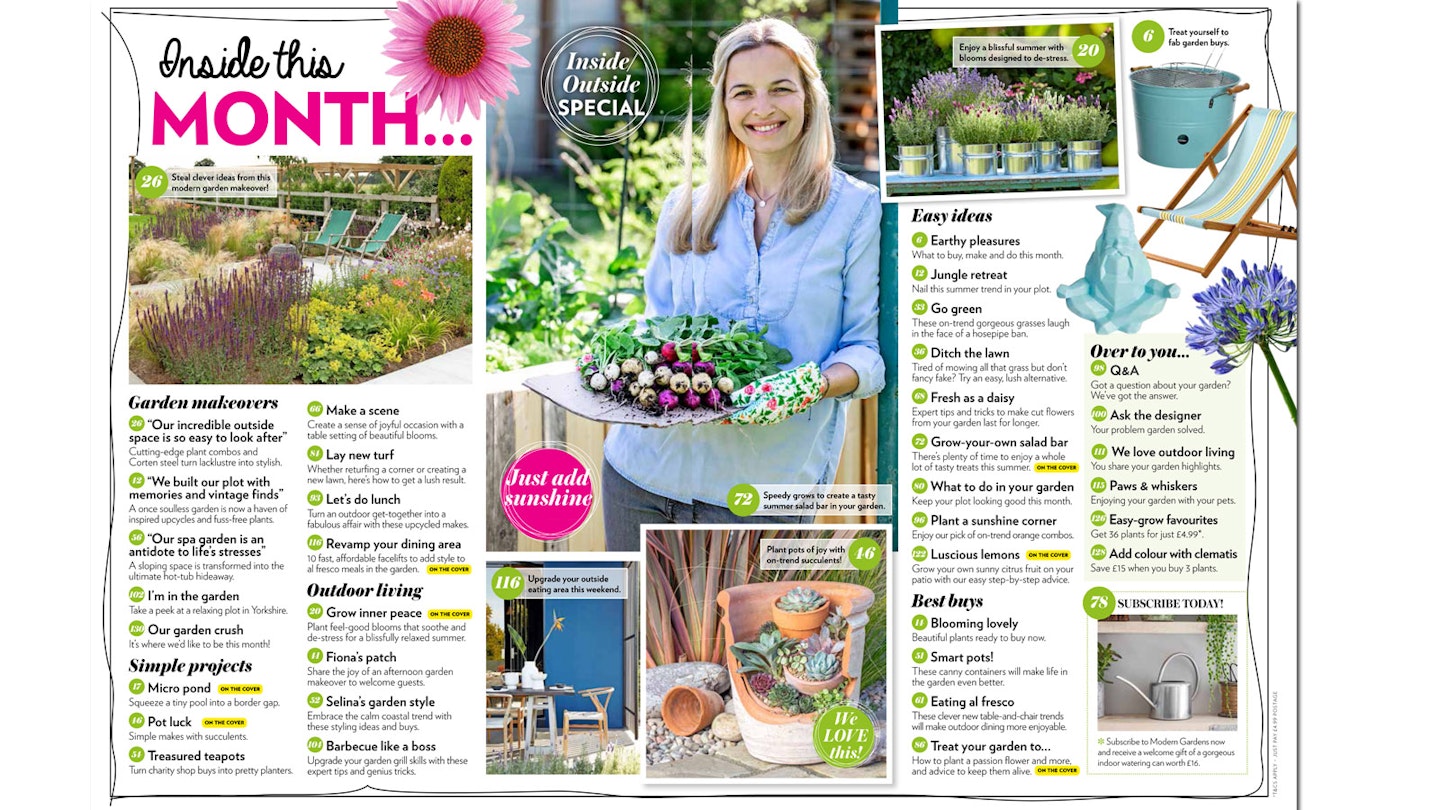 Description
FREE seeds with UK Mainland copies!
Description
Save money with our great offers, plus get FREE P&P!