GARDEN MAKEOVERS
Page 24: "Our garden looks fab all year round" Lush plants and smart lights have turned a city plot into a season-proof space.
Page 36: "We'll be celebrating Christmas in our garden" Cosy corners designed for outside living have renewed this overgrown plot.
Page 46: "It's perfect for a drink with friends" This small plot is now a sociable outside space that oozes luxe beach-club vibes.
SIMPLE PROJECTS
Page 16: Patterned planters. Turn cheap shop-bought blooms into foxy pots of prettiness.
Page 64: Ravishing wreath. Welcome guests with a ring of foliage.
Page 76: Plant an apple tree Give your garden the perfect present.
OUTDOOR LIVING
Page 18: Sparkle & Shine. Transform your winter garden into a magical haven this Christmas.
Page 44: Selina's garden style. Embrace the festive floral trend with these styling ideas and buys.
Page 100: Patio party. Enjoy a fabulous night of festive al fresco fun with our entertaining ideas.
EASY IDEAS
Page 28: Level best. These clever solutions will transform your sloping plot into a usable space.
Page 41: Go wild. Pinch these goodies from the garden to decorate your home with natural beauty.
Page 92: Plant a Christmas cracker corner. Enjoy our pick of joyous combinations
BEST BUYS
Page 51: Funky firepits. In on-trend geometric shapes, these hot designs are ahead of the curve.
Page 79: Houseplant prezzies. Failsafe plants to gift, with handy cut-out care guides to keep them alive!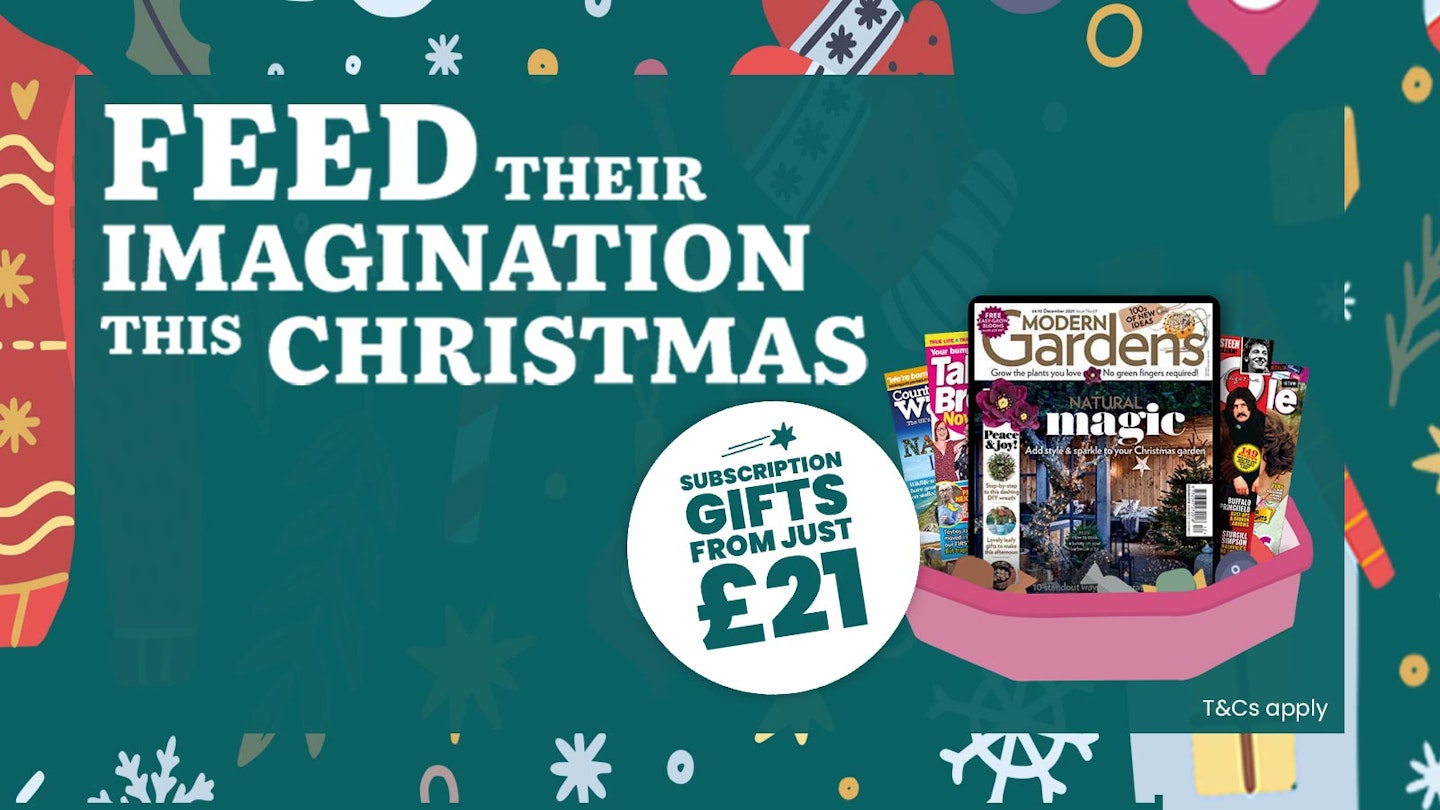 It's Christmas!
We have the perfect Christmas gift for you or your loved ones! With subscriptions from just £21 why not get someone a gift they can enjoy all year round?
Our assortment if great lifestyle, fashion, motoring entertainment, celebrity, outdoor and puzzle magazines make the sweetest gift for Christmas. Get your magazine delivered straight to your door with FREE UK delivery or get access to our digital subscriptions so you can enjoy on-the-go.
Can't decide? Why not get one of our gift cards instead, treat family or friends to a Great Magazines Gift Card where they can choose their own magazine subscription to enjoy!
Buy online now from the comfort of your sofa in just a few minutes.