Laura and Anthony Green updated their tired eighties garden by dividing it into three striking zones...
Laura Green's garden is so contemporary that it's hard to believe that only two years ago, it looked like a throwback to the 1980s. With a ginger red brick patio, crazy paving, some rounded steps, a collapsing wall, and a huge conifer and shrubs dominating the rest of the plot, it looked both dated and tired.
"We moved here in 2010 and did some major work to the interior of the house. When we finished that, we knew we wanted the garden to reflect what we'd done inside. I love to mix modern with traditional and I thought we could apply those same principles outdoors," explains Laura, an interior designer, who lives here with her husband Anthony, their children Joseph, 11, and Ella, 9, Lottie the spaniel and Lily, a frug (a French bulldog and pug mix). "I had a really clear idea of what I wanted, and because I'm an interior designer, it was straightforward for me to plan the project."
"The lawn was one long slope, so we asked the builders to introduce a second tier"
Work began in September 2014. The lawn was originally one long slope with steps leading up from the patio. Laura wanted to introduce a more structured look, so she created three different tiered zones, a ground level patio where the family could sit out and eat, a second tier, for a decorative lawn and borders, and the top level, where there is a play area and barbecue zone. The work began once the garden had been completely cleared, although an attractive ivy covered wall was left, as was a palm tree, while another palm was transplanted to a new spot. Making the tiers involved the construction of two retaining walls and building new steps. Foundations were put in first, and proper drainage was installed. This was vital as the garden slopes towards the house.
"It was not easy for our builders because we only have a narrow side entrance to the garden, the width of one wheelbarrow. Everything had to be moved in and out by hand," says Laura.
The lawns on the second and third tier were re-turfed and Laura had the width of the borders reduced, as she did not want to contend with a mass of labour-intensive plants. To prevent the borders from looking too narrow and to create interest, she and Anthony chose a mixture of exotic plants to introduce height and shape. They kept the Cordyline palm tree, which grows happily through the coldest winters. This exotic look was mirrored in the borders, with more Cordyline fan palms, and some blue grasses (Festuca glauca), as well as ferns and some acers. "I'm not an expert gardener, but I knew the look I wanted to achieve and most of the plants are easy to care for," says Laura. "I have used some box balls in pots, but after the first lot that I bought got a disease called box blight, I replaced them with artificial ones! I have no problem with using fake plants, I do it all the time in my interiors work, and think they can look very realistic and attractive."
The borders on the second level were edged with sleepers, which were painted black. "I wanted to create some definition and this was a cost effective way of doing it. The black paint contrasts well with the blue grasses which we've planted behind and which we can see from the house. We also have a row of six evergreen Cyprus trees on the second level, so we are guaranteed some year round colour." Laura has used a technique called repeat planting, choosing to stick with the same plants side by side, to add impact and drama. "It's an idea I use when I'm decorating interiors, and it works well outside, too."
The side walls were constructed from the same red brick as the patio, so Laura had these rendered and painted black. Standard wooden fencing was fixed to the top, and painted the same colour. The patio and the steps have been created using deep grey slate which makes a strong contemporary statement. "It looks beautiful, but we only realised afterwards that this is a high maintenance choice," says Laura. "The slate has to be sealed with a heavy duty sealant, and it can still show watermarks, which is not ideal. In hindsight, we probably should have chosen a more hardwearing sandstone." On the rises of the steps, Laura has glued an artificial grass to prevent the appearance of marks. "I do like everything to look precise, and this way I thought I'd get rid of those water marks for good!"
When the weather is fine, the family use the patio just outside the French doors which lead directly from their kitchen. If they're having a barbeque, they decamp to the third level of the garden, where they've set up a cooking station, and sited a second slate patio with a table and chairs. The children's play area is here, too. "We have pots of strawberries, peppers and mint up there, which we love to pick and eat in the summer," says Laura. She has also upcycled some old wooden palettes into a compact and stylish bar, where she can store drinks and glasses, and serve up cocktails and soft drinks to guests. "My sister works for a building company, and they were throwing some palettes away," says Laura. "I asked her to save a few for me, and my brother-in-law fixed it together with screws. We have topped it with some grey slate left over from the patio and I painted it with Sadolin paint in black!"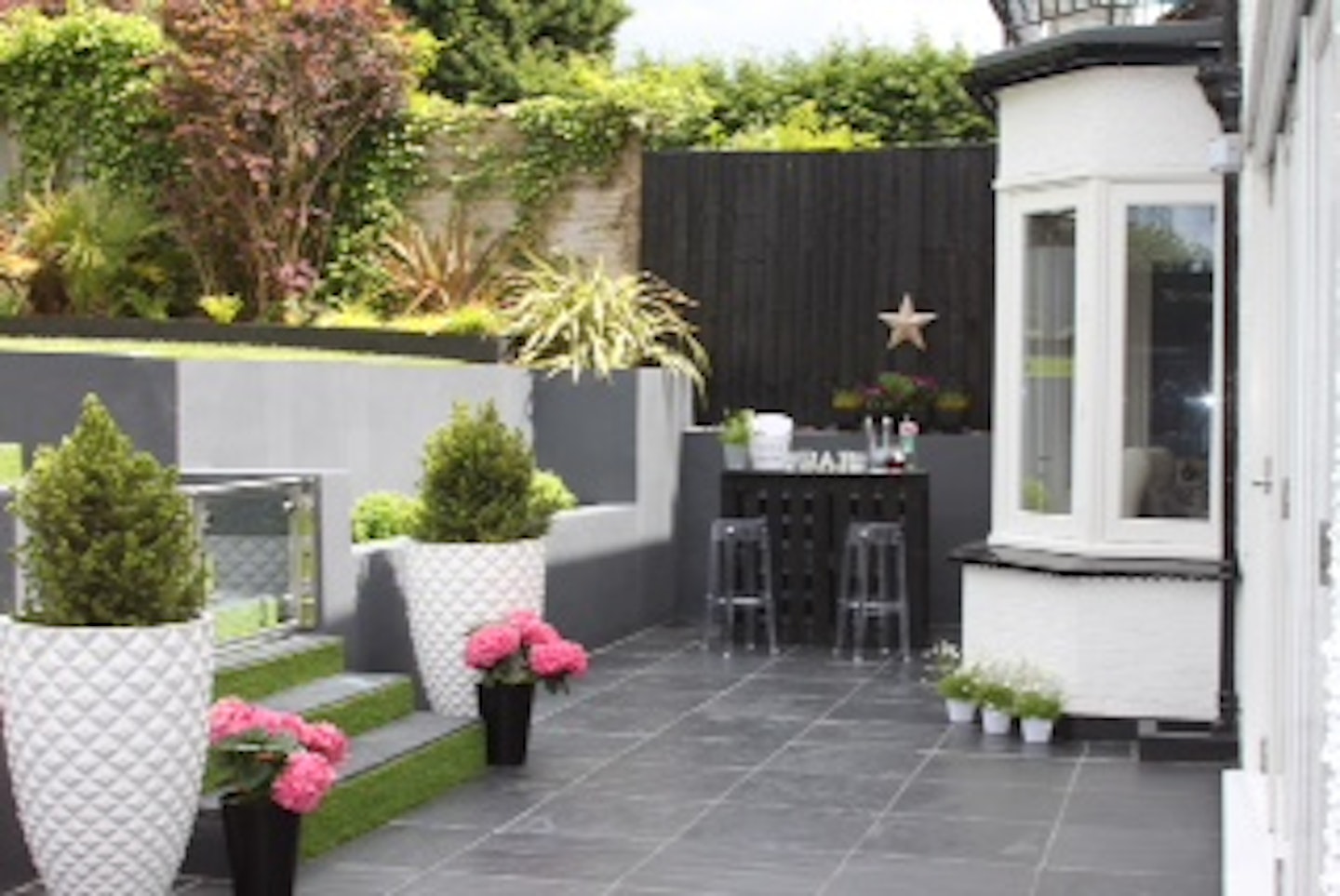 Laura's garden is immaculately kept. "It looks simple, but it is quite a high maintenance plot because everything has to be washed and tidied regularly. If anything is out of place, it really shows," she says. "As well as enjoying being outside in the garden now that we have made it more useable, what we really love is that it now looks just as good from the inside of the house. Sitting in the kitchen with a cup of coffee and looking out on what we've created is just so relaxing, and definitely worth the hard work!"